The 5 Best Moments from the MTV Movie Awards!
Written by Nicole Koch. Published: April 13 2015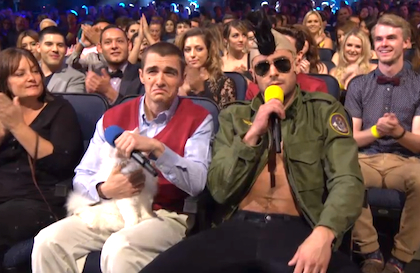 The MTV Movie Awards are always interesting one way or the other, am I right?
So many crazy and weird things happened last night, especially the moments in-between announcing category winners. A lot of dirty jokes were told and inappropriate skits took over the stage. If you missed the show, we got you. Here are five of the best moments from last night that will surely have you LOL-ing or maybe just shaking your head is disbelief!
1. Vin Diesel Sings for Paul Walker
The badass actor showed off a secret talent for one of his closest buddies, the late Paul Walker. Still feels like yesterday that we lost him… What a sweet thing to do, Vin!
2. Zac Efron and Dave Franco got handsy
Gosh, these two! How can you not love them? Dave went for Zac's nipples, and Zac responded with,  "You're crossing a line right now Dave, don't make me do it." And Zac proceeded to grab Dave's crotch. I think they should get awarded for Hottest Couple.
3. Channing Tatum Twerks for J.Lo
Channing impresses women on the daily, but last night, his focus was on the stunning Jennifer Lopez. She wanted to see some stripper moves, but he showed off his twerking skills instead! Either one works for me!
4. Amy Schumer kissed Amber Rose
The two got on the Kiss Cam and went all out. What's an MTV award show without some random lip-locking?
5. Amy Schumer killed Jimmy Kimmel
AndCara Delevingne's face was priceless. Everyone was in danger last night, what with Schumer targeting movie scenes or celebs in the crowd. But when she shot a bow-and-arrow into Jimmy Kimmel's chest during her opening monologue, Cara totally freaked out! It's okay, girl, it's fake!
What were some of YOUR fave moments from last night's show?
(Screenshot via MTV.com)
- Nicole Koch, YH Staff