The 5 Best Cinderella Film Adaptations!
Written by Sarah Osman. Published: March 11 2015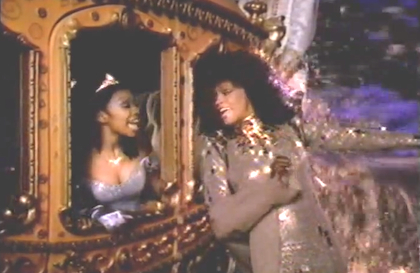 There is no fairy tale in the world that is more well known than Cinderella. There are over a thousand different versions of the classic tale. The earliest recorded version hails originally from China, where she is named Yeh-Shen. In this version, Cinderella is not quite as helpless -- she is far more self-reliant and devoted to her family. In addition to all of the female Cinderellas, there are also a number of male Cinderfellas, including Billy Beg of Ireland and Sumorella. A few of the craziest versions of Cinderella include: an Appalachian tale called "Smoky Mountain Rose" (she wants to go to a church meetin' in place of the ball); Aschenputtel, a German Cinderella (in which her stepsisters cut bits of their feet off in order to fit into the glass slipper); and The Story of Tam and Cam (the Vietnamese version) where Cinderella's fairy Godmother comes in the form of a fish.
In honor of Disney's latest retelling on the tale, Cinderella, opening this Friday, I decided to make a list of the top five film versions of Cinderella. No two films are exactly alike, just as no two versions of Cinderella are alike. You can catch up on these standards before catching Cinderella in theaters this Friday:
Cinderella (1950, Disney Animation):
By far the most recognizable take on Cinderella, Disney's original animated classic is easily one of the studio's best films. Cinderella's gown in this film is so iconic that it's become canon that Cinderella wears a light blue dress to the ball. She is one of the most popular of the Disney princesses and she was even a favorite of Walt Disney himself -- in fact, the scene in which she transforms was his favorite piece of Disney animation. The film is a classic and simple take on the story; her stepsisters are atrocious, her stepmother is diabolic, and her fairy godmother is sweet as pie. She even has adorable mice friends to help her out. I will always have a soft spot for Gus, the chubby little rascal who thinks that it's everyone's birthday. Aw, Gus... if only you were in a different land, you would fit right in.
Cinderella (1997, Walt Disney Television Remake of the Rodgers and Hammerstein Musical):
This particular take on Cinderella was known for its songs, flashy costumes, and for having the first African-American woman play Cinderella on film. Cinderella was also known for its unique multi-racial cast -- in this version, her stepmother ls caucasian (and played deliciously by Bernadette Peters) while one of her stepsisters was African-American and the other was caucasian. The film's cast is really what makes it stand out; Whitney Houston plays her fairy godmother, Whoppi Goldberg stars as the Queen, and even Jason Alexander is in there, and they all belt out spectacular Broadway numbers. However, the film really wouldn't be the same were it not for its title star --Brandy brings the charm and scrappiness that is essential to Cinderella's character.
Ever After: A Cinderella Story (1998, 20th Century Fox Live-Action):
Easily my favorite film version of Cinderella, this feminist take proved that Cinderella didn't need a fairy godmother -- or even a prince for that matter -- in order to get by. Drew Barrymorestarred as the title character, and the story is set in Renaissance-era France. In this version, there is no fairy godmother; instead, the film takes a more historic approach. Danielle (Cinderella's name in this version) is friends withLeonardo da Vinci, has a kind stepsister (played by one of my all-time favorite actresses, Melanie Lynskey), and was raised to be independent by her father. I have always loved how intelligent, fearless, and kind Danielle is. She is the ultimate '90s feminist. 
Confessions of a Stepsister (2002, Walt Disney Television Film): Based on the book by Wickedscribe, Gregory Maguire, Confessions of a Stepsister actually doesn't focus on Cinderella herself but instead on one of her "ugly stepsisters". In this version, her stepsisters aren't mean (and aren't that ugly either) and are actually quite kind to Cinderella (who is named Clara). Her step sister, Iris, helps to take care of her stepsister, who is a recluse, and even helps her to get ready for the ball. In the film, she even ends up getting her own prince (he's just not a prince -- he's a painter). Although the book differs quite a bit from the film, the latter is undeniably charming and a sweet take on the classic tale.
The Slipper and the Rose (1976, Universal): This British gem isn't the most well-known Cinderella film, but that doesn't make it any less charming. Set in the fictional kingdom of Euphrania, this version has a bit more of a political slant -- the prince's parents want him to marry for the betterment of the kingdom, whereas he wants to marry for love. This plot point becomes rather important as the film goes on (but you will have to watch to find out why!). Another musical take on the classic tale, The Slipper and the Rose's songs were written by Disney royalty, the Sherman Brothers. In England, the film is quite the big deal; it was selected as the Royal Command Performance motion picture selection.
From what we are hearing, this new live-action version of Cinderella will make a perfect addition to this collection, so be sure to go see it when it opens this weekend! In the meantime, check out our chat with Prince Charming himself, Richard Madden, at the YH Studio!
(Screenshot via YouTube)
- Sarah Osman, YH Staff