The 5 Best Bites from the 2014 L.A. Food & Wine Festival!
Written by Katie Marzullo. Published: August 25 2014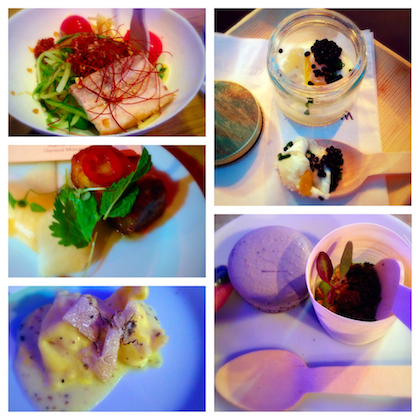 Following my own sage advice from last year, I threw on my stretchy pants, stepped into some comfy flats, and headed Downtown once more for the annual Los Angeles Food & Wine Festival's Lexus Grand Tasting Event, AKA Gorgefest '14.
As always, it did not disappoint, not the least of which because, within the first 5 minutes of my arrival, I was handed a bowl of noodles by none other than Iron Chef Masaharu Morimotohimself! So, you can pretty much cross THAT off my bucket list... Anyway, the taste sensations didn't stop there. Taking up two whole enormous stages at L.A. Center Studios, some of the hottest chefs, restaurants, and vineyards in town were on hand to show off their wares. I can't speak too much to the wine part, since I don't drink alcohol, but when it comes to the gourmet nibbles available, I have plenty to say!
Pictures above with the 5 outstanding small bites that I experienced yesterday. Starting clockwise from top left, they are:
1. Iron Chef Morimoto's Noodle Bowl: I mean, what else is there to say? Topped with saffron, pickled veggies, and a slice of pork, it's pretty much what you would expect from one of the world's most renowned chefs. True, it was a little salty, but that's what the bottled water they were handing out was for...
2. Thee Opulent Slut, from Eggslut: This one was an enigma at first, and it came at the tail end of my experience when I was pretty close to not being able to take much more. But I am so glad I held out for this one -- I could have had 10 more. And you can't beat that presentation either! Basically you have a layer of mashed potatoes topped with a poached egg yolk, sprinkled with chives and caviar. So simple, so ingenious, so delicious.
3. Lavender Macaron, from Faith & Flower: These guys had an entire spread that looked like a garden (more below), and among some other goodies they had to offer, by far the stand-out was their lavender macaron. So light and delicate in texture, but the flavors burst in your mouth like an explosion of awesome. I'm not a big sweets person, so to say that this was one of the OVERALL bests of the day should tell you a lot!
4. Truffles and...?, from Riva Bella: Come on, does it even really matter what's beneath those freshly-grated truffles? TRUFFLES, you guys. At any rate, it was a single ravioli in a delicate cream sauce. The amount of truffleage was just enough to bring out the flavors without overpowering it. I saw some other people getting basically a truffle mound on their dish, which, hey, to each their own, but it seemed like overkill. This, in my opinion, is the perfect truffle-to-bite ratio.
5. Pork Belly and Melon, from Michael's: There were actually no less than THREE different restaurants offering pork belly yesterday (including one other serving "pork collar", whatever that it... it was very similar to the pork belly), but this one was my favorite. They didn't get too fancy with the marinade or accoutrements, and it was cooked perfectly -- crispy on the outside and melts in your mouth. You know you're in for some good times when you can cut it with the side of your fork. Foodgasm anyone?
HONORABLE MENTIONS
Those were the highlights but definitely not the only memorable experiences from the event. For starters, there's that "food garden" from Faith & Flower I was talking about before:
That "dirt" you see? Cookie crumbles.
Rivera offered a freshly made chip topped with "brocomole"... I think that speaks for itself, no? Whodda thunk?? VERY spicy!
Acabarserved up a crispy lamb bun with stonefruit relish, sriracha aioli, and herbs; the insides were good, but it was the bun that stood out to me! Crispy on the outside, soft and chewy on the inside... wow, EVERY sandwich should be served in one of these buns!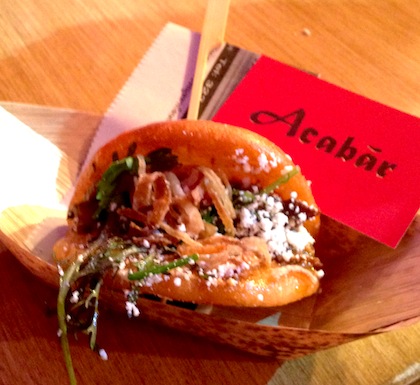 And last but not least, Joe's Crab Shack was in the house to add a bit of quirk to the proceedings. Not only were they grilling meat cubes on actual irons...
...but they also had a full lobster roll cone bar. WHAT. Yes, they went there. I didn't because I was bursting at the seams at that point, but I'm sure it was spectacular!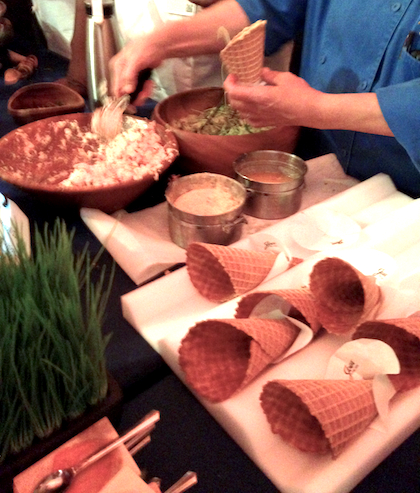 Oh man, my mouth is watering all over again just writing this!
Tickets for this event aren't cheap, but considering what you're getting for your money, it is SO worth it! So, when the event rolls around next year, I highly recommend you consider it!
(Photos via Me)
- Katie Marzullo, YH Staff Editor