Taylor Swift's 5 Most 'Fearless' Moments!
Written by Jasmine Liu. Published: April 26 2019
(© Michael Tran/FilmMagic/Getty Images)
From the very first album released in 2006, Taylor Swift charmed everyone with her beautifully crafted lyrics that brought the honest and real power of love to life. Weaving real names and authentic experiences into her songs, all eyes were on her the year she came about in the country music world.
As years have gone by, Taylor has only grown into an even more beautiful soul, making people of all backgrounds and interests fall in love with her. She has released 6 albums and is coming out with the new one (4.26, as I'm sure you have all seen), received numerous awards, acted in a couple of films, and went on 6 world tours. She's known for her music but also being an incredible friend, a cat lover, and a woman who isn't afraid to stand up for the right thing. As this fearless woman comes out with her 7th album, let's take a little trip down Memory Lane of Taylor's most fearless moments!
1. When she seamlessly transitioned from country to pop with her album 1989.
Switching genres as an artist is rarely heard of and definitely not an easy task. But of course, Taylor made it look like a piece of cake and all her songs were straight fire. She rebirthed herself perfectly.
2. When she gave her feminist speech at the 2016 Grammy Awards.
Amidst theKanye drama and craziness surrounding it, Taylor accepted her Album of the Year Grammy Award (the first woman to achieve such a milestone in their career) and made a speech to young women to let them know that hard work pays off and NO ONE can take that away from you. GO, SIS.
3. When she changed the music industry by calling out Apple Music to change its policy for artist benefit.
Taylor didn't do this for herself, but for those rising artists who may not make as much as she does. She respects the art of music so much she penned an open letter to Apple, convincing them to not offer a 3-month free trial, and the very next day, Apple executiveEddy Cue reversed the policy and all artists would get paid.
4. When she admitted her fault and resolved her quick feud with Nicki Minaj in the most graceful way.
Basically, Tay thought Nicki was taking a jab at her when Nicki Minaj's popular "Anaconda" video didn't receive a Video of the Year nomination from the VMAs. In the end, Tay apologized, Minaj accepted, and once the VMAs rolled around, the two officially put their bad blood to rest by performing on stage together. We love a queen who is aware of her own mistakes.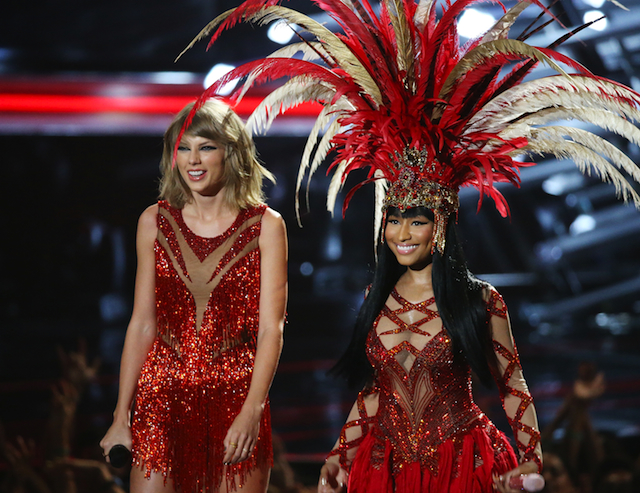 5. When she donated $50,000 to a fan battling cancer.
When 11-year-old Naomi Oakes was diagnosed with cancer, she chose "Bad Blood" as her fight song. Her family soon posted a video on YouTube explaining that she wouldn't be able to attend Swift's concert in Phoenix because of her cancer treatment. Using the hashtag #TeamNaomi, they urged fellow fans to spread the word about Naomi's journey, in the hopes of reaching Swift herself. Taylor eventually saw the video and responded by donating $50,000 to the Go Fund Me page for Oakes's family. She wrote, "To the beautiful and brave Naomi, I'm sorry you have to miss it, but there will always be more concerts. Let's focus on getting you feeling better. I'm sending the biggest hugs to you and your family."
(Top image via Axelle/Bauer-Griffin/FilmMagic/Getty Images)
- Jasmine Liu, YH Contributing Writer