"Survivor" Star Launching Fan-Interactive Travel Webseries!
Written by Amanda Baltazar. Published: June 18 2014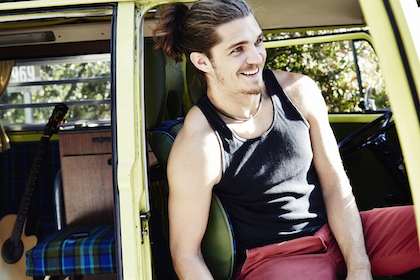 The dictionary says that wayfaring is "the action of traveling by foot."
However, I think Malcolm Freberg from the reality television show "Survivor" has some different ideas to wayfaring for his new project.
Malcolm, probably one of my favorite "Survivor" contestants, proved to be an entertaining character on the show, and if you loved him as much as I did, then you need to watch his new docu-series titled -- you guessed it -- "Wayfaring".
Inspired by his time on the show, Malcolm found a love for traveling and living in different places. Taking what he's learned from "Survivor" and host Jeff Probst, Malcolm will be hosting his own show. But what makes this show any different from the other travel shows out there?
First of all, Malcolm and a film crew will depart on a journey starting July 1. They will travel to different places and Malcolm pledges to complete a challenge that the audience will vote for via social media!
What's really new and exciting about the series is that the episodes will be released on the "Wayfaring" website the day after filming, so the first episode of Malcolm's travels on July 1 will be posted on July 2,  and so on. This interactive trip around the United States will have twenty episodes in all, so it will take place from July 1 to July 20. This means YOU get to decide where he goes and what he does on the trip! But this idea only works with YOUR help! Malcolm's really excited about the trip and basically being at America's beck and call, but he has a few loose ends to tie up. And he, along with Pink Guerrilla Prodcutions, has launched a Kickstarter campaign.
But, here, Malcolm can explain it all to you.
You can find this video and more information about how to help out the "Wayfaring" Kickstarter here!
Hurry because the campaign ends on June 25!
Remember to tune into the first episode on July 2 here!
(Photo via Diana Ragland)
- Amanda Baltazar, YH Staff