Survival Guide For Attending Cinespia's Hollywood Forever Movie Screenings!
Written by Brittany Taormina. Published: June 10 2016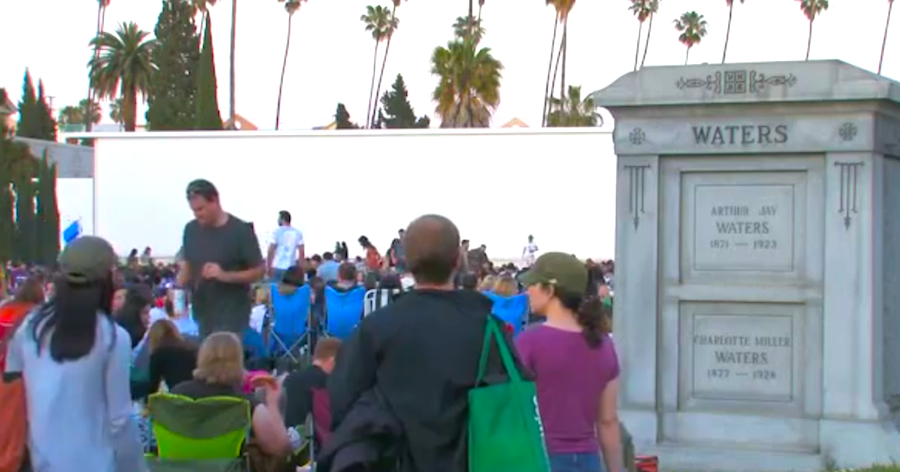 Everyone loves a good outdoor movie, and since drive-ins are no longer a thing, one of the most popular outdoor film-going experiences is Cinespia's Hollywood Forever Cemetery Movie Screenings. You may recognize this from movies like Valentines Day, or maybe even from our interview with singer BØRNS for "Backstage Diaries". As someone who has attended the screenings, it's a great way for the community to come together and enjoy classic films you might otherwise not get to see in a theatre. The cemetery is located directly behind Paramount Studios, hence the name.
These screenings are not for rookies, though, so here is a survival guide for attending!
1. Early bird gets the worm.
Make sure you arrive when the gates open -- if you want to get the best seat in the house. There are many, many, many people who attend these screenings, and it's hard to be in the front if you show up after the gates open. What is really great about where the film is shown is that it's on the Fairbanks Lawn, so there really isn't a bad seat in the house.
2. Beach chairs are a MUST!
Now, it's great to have a picnic-style outing with only a blanket to sit on; however, having a beach chair creates you own space to cuddle in just like at the movie theater, plus it's just way more comfortable!
3. FOOD, Glorious FOOD
A movie isn't a movie without the proper snacks. I highly suggest brining yourfavorite treats, but Cinespia is AWESOME because they not only have snacks but they have Beer and Wine! How fun is that? You can find these goodies towards the back of Fairbanks Lawn.
4. Photobooth Extravaganza
This is one of the best photobooths in the game. At every screening, there is a photobooth decorated in the style of the film that is being shown. If there is a line, trust me, it's worth the wait. Check out this awesome set up forSingin' In The Rain.
Overall, the screenings are a lot of fun, and if you follow these tips and tricks, you are sure to have a night to remember! This summer, you can catch movie classics like The Sandlot, Purple Rain, and Grease.
If you want to find out when you can catch the latest flick, check out theCinespia website!
(Screenshot via YouTube)
- Brittany Taormina, YH Contributing Writer