SUNDAY MUSIC VIDS: Robert Palmer
Written by Katie Marzullo. Published: May 20 2018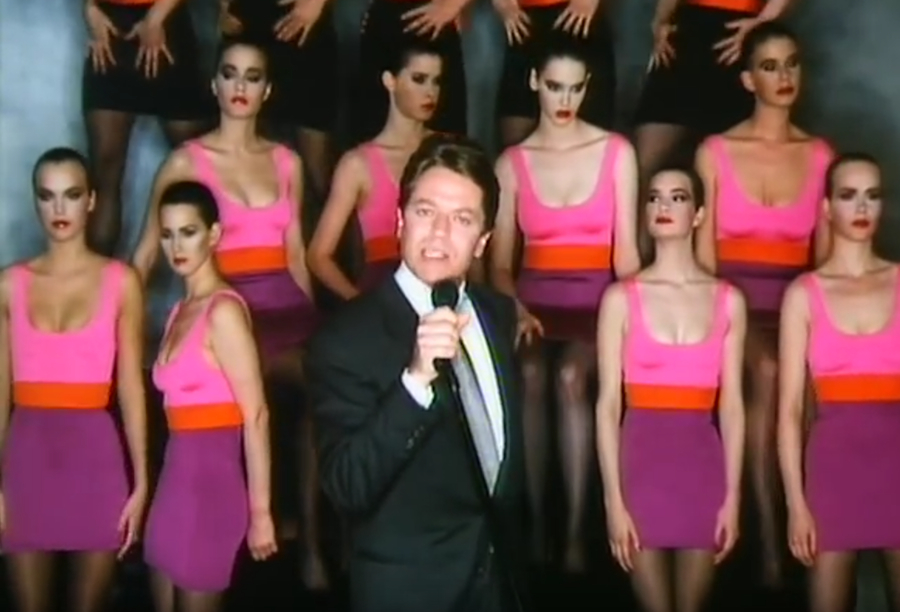 IfRobert Palmer had not passed away over a decade ago, he'd probably still be as smooth as ever.
When it comes to music videos, the U.K.-born singer definitely had a distinctive style! During the 1980s, he had a string of hits, including "Addicted to Love", "Simply Irresistible", and "I Didn't Mean to Turn You On". All these videos have a very simple but very striking concept – Mr. Palmer, dressed to the nines in a suit and tie, crooning into a microphone while surrounded by a flock of fembots. That is, women dressed and made up indentically (with tightly pulled back hair and severe make-up), sometimes holding instruments, and moving in unison. They're like Stepford Rockettes. I think it goes without saying that Palmer would probably not be able to get away with something like this today, what with the vaguely misogynistic undertones and all. But then again,Robin Thicke's "Blurred Lines" was one of the biggest hits just a few years ago, so what do I know?
At any rate, check out the three videos below – as you can see, not much happens, but it's somehow mesmerizing. It doesn't hurt that the songs (and Robert himself) are... well... simply irresistible!
Incidentally, Palmer also enjoyed some success as the lead singer in a band called The Power Station, which released one self-titled album in the '80s. This record gave us such hits as "Some Like It Hot" and "Get It On (Bang a Gong)", and just like Palmer's solo jams, these music videos are very similar in look and style to each other, as though they had been filmed on the same day. Both feature a weird animated fever dream and typical '80s motifs, like hot ladies, lots of neon, and bad chroma-key shots. And, once again, it's really hard to look away:
The '80s really were a magical time, weren't they? We miss you, Robert!
(Screenshot via EMI Music)
- Katie Marzullo, YH Staff Editor