Storylines To Watch Out For As The 2021 NBA Playoffs Approach!
05-01-2021 by Heather Barette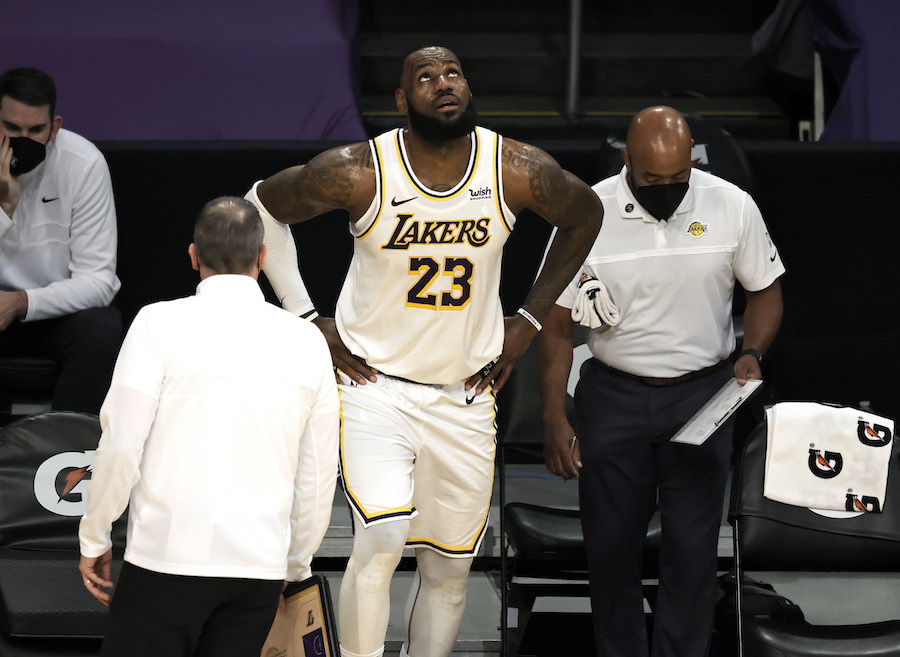 ( © Michael Owens/Getty Images)  
Two words that go together like sweet potatoes and marshmallows: Playoffs, Basketball. Even in a year when injuries have plagued some of the league's biggest stars, I'm sure I speak for all of us when I say that I'm pumped to see all of my favorite players compete on basketball's biggest stage. And this year, there will be fans in the stands! Bubbles be damned!

As the regular season winds down, here are some storylines that I'm most excited to see play out:
1. Will injuries cast a shadow on the crown?
As a Lakers fan, I'm obviously nervous about LeBron James, who still hasn't played since his high ankle sprain in March, andAnthony Davis, who just recently returned to game action after scarily re-injuring his calf earlier in the season. But the Lakers aren't the only team hit by the injury bug – Brooklyn has James Harden to worry about (in addition to the already injury prone Kevin Durantand Kyrie Irving), Denver has lost Jamal Murray to a torn ACL, and our "Rookie On The Rise" faves, Atlanta's Trae Young and Utah's Donovan Mitchell, are still recovering from their respective ankle injuries. And those are just to name a few; I didn't even include the frequently injury-prone 76er Joel Embiid or Clipper Kawhi Leonard, or even the Hornets star rookie LaMelo Ball. And that's STILL not the entire list. You hate to see teams lose out on the chance to win a title due to being decimated with injuries, and with the condensed nature of this season, injuries have made the headlines far too frequently. Let's just hope we can all watch the NBA's best play at full strength when the postseason rolls around!
2. Will the Brooklyn Nets be the dominant post-season force everyone thinks they'll be?
I don't know about you, but this year's Nets feel A LOT like last year's Clippers: High expectations, disappointing results. We all know the Nets' three-headed monster of Irving, Durant, and Harden, when healthy, is special. But all three of them have only played together a handful of times -- injuries (as mentioned before) are a concern and the Nets' defense as a whole is maybe not as outstanding as you'd like it to be. We know this team is going to score buckets, but can they lock down their opponent when push comes to shove? Time will only tell. Not to mention, the East this year is no joke: the 76ers, Bucks, and [*checks notes*] New York Knicks will all be major post-season threats, and the Nets are entering the playoffs with a big bullseye on their backs. Can this team live up to the hype, or will they crumble as badly as the Clips did last year? Boy oh boy, I can't wait to find out. Get that popcorn ready!
3. Speaking of the Clippers, can they finally get over the hump?
As a native Angeleno, saying anything even remotely positive about the Clippers is admittedly is tough. The Clippers' post-season struggles have been widely advertised, and the fact that they still haven't made it past the Conference Semifinals round, despite having been blessed with the Lob City boys, is just … sad. But I will say this: their offense has been excellent this year, they still have two of the best wing defenders in the league in Paul George and Kawhi Leonard, their pick-up of recent Lakers champion Rajon Rondo was a solid move at the point guard position, and they have some nice role players around their stars. Their bad playoff luck can't last forever, can it?

4. Will there be any massive upsets?
Every year, fans and the media love to theorize about which teams can potentially knock off the big boys. And with the injuries and general oddities that have characterized this COVID season, there are definitely some intriguing upset options to be had. Again, if healthy, the Lakers and the Nets will be the favorites to come out of their respective conferences, but they have some teams breathing down their necks. The Jazz have never won a chip and have been good to very good all season; the Clippers, as mentioned previously, are hungry; the Sixers have shown that they're scared of no one; the Heat were two games away from taking it all last season; the Mavericks and Trail Blazers have largely underperformed this season and are both perceived as threats; and the Suns, although young and – for the most part – playoff inexperienced, are very well-coached and could make an impressive run. Also, don't forget … THE KNICKS ARE NOW PLAYOFF CONTENDERS! Plus, with the "play-in tournament" that Adam Silver and the gang are trying out this year, the No. 10 seed could make a run at it. As of the time I'm writing this, those 10 seeds would be the MVP Steph Curry-led Warriors and the MVP Russell Westbrook-led Wizards. Hey, anything can happen…
5. Will this year's playoffs feel more normal than last year's?
Having fans in the stands, even if stadiums are not at full capacity, will be huge in contributing to that playoff atmosphere we've been missing for so long now. The players will certainly feed off of that energy, and hopefully the on-court action will make the exorbitant price of the tickets worth it for these lucky few. I mean, imagine if that buzzer-beating 3-pointer Anthony Davis hit against the Nuggets in last year's Western Conference Finals had been in front of fans? It makes me a little sad just to think about it. It'll also be nice to see every team play on their home courts, as opposed to the Disney World bubble. And I'm still waiting on my 2020 parade; let's just hope this year's champ gets to celebrate in the streets. This is the NBA's opportunity to make priceless memories as a global pandemic (hopefully) comes to a close. Let's just avoid those positive COVID tests like we did last year, cool guys?
Those are some of the things I'll be looking out for as playoff season rolls around on May 22. Last year, I was on pins and needles until time ran out on Game 6 of the Finals; let's hope this year I remember to breathe a little more often!