Steven Spielberg & Tom Hanks Heading Back to WWII
Written by Katie Marzullo. Published: January 19 2013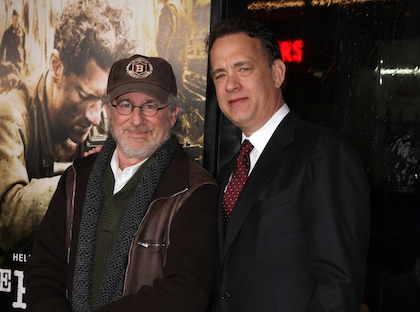 I think, at this point, it's safe to assume that both Steven Spielberg and Tom Hanks were World War II soldiers in their former lives… possibly even on the same squadron. Their shared fascination with the legendary conflict – which pre-dates them both by 1 and 11 years, respectively – rivals onlyJames Cameron's obsession with the ocean.
Now, the high-powered duo is gearing up for their THIRD WWII-based miniseries! After striking film gold back in 1998 with Saving Private Ryan, Stevie and Tommy decided they would keep the genre going by creating the critically-acclaimed HBO series "Band of Brothers", which focused on the 101st Airborne's Easy Company. Then, in 2010, the twosome came together again for "The Pacific", another HBO series that centered around three Marines during the U.S.'s conflict with Japan in, you guessed it, the Pacific. The new series will again live on HBO and will this time take to the skies, focusing on the Air Force and their war with the Nazis from up above.
If the previous two series' are any indication, this new endeavor will likely be a big-budget, star-studded affair that will reap many financial benefits for the Home Box Office (not that they need it, though). Spielberg and Hanks have, both separately and collectively, shown quite a zeal for all things historical. In addition to their penchant for WWII, these fellas have also tackled the Moon Landing, the Revolutionary War, the Civil War, the Swinging '60s, the Depression, the Old West, and even the 2008 Presidential Election. Hanks even starred in last fall's Cloud Atlas, which was about reincarnation and therefore took place in a number of time periods – fitting for a creative artist so enthralled by the past. Ironically, Hanks himself has stated that he does not believe in reincarnation. Suuure, Tom.
(Image via Nikki Nelson/WENN)
- Katie Marzullo, YH Staff Editor