Stars Get Into the Indie Spirit the Day Before Oscars
Written by Sarah Osman. Published: February 27 2013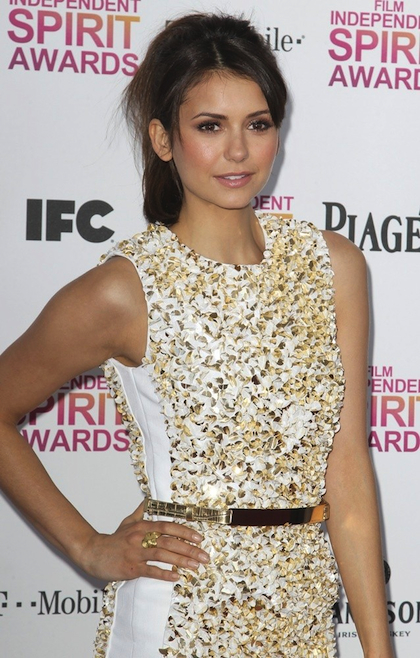 This past weekend, a day before the magnificent Oscars, the official presenter gift lounge backstage at the Film Independent Spirit Awards swarmed with celebrities, including
Jason Schwartzman
,
Chris Tucker
,
Kerry Washington
,
Jeremy Renner
,
Mae Whitman
,
Common
,
Nina Dobrev
,
Emily Mortimer
,
Bryan Cranston
,
Quvenzhané Wallis
,
Michael Pena
,
Mark Duplass
,
Melanie Lynskey
,
Laura Dern
,
John Hawkes
, and many more!
The lounge from the outside looked like a simple white tent, but I felt just like Harry Potter when I walked inside. The interior was enchanting—small crystal chandeliers sparkled from the ceiling onto the glittering floor below; black curtains hung from the walls as comfy couches sat in the middle. Vendors were sprinkled around the room, each more welcoming than the last. I made my way around them, starting with
Caribbean Living Magazine
, where I learned a bit about island life (and Jeremy Renner snagged a private island getaway -- lucky Jeremy!) before I made my way to
Yoplait Greek 100
. Celebrities seemed to really enjoy this new healthier yogurt, as Renner and Tucker couldn't stop eating it. I then learned about Perfect Pearl, a unique luxury lotion that is made from pearl extract (I didn't even know that was possible!) after which I tested my film knowledge at Mattel Games (and enjoyed some delicious popcorn). The designer for
Blessed & Cursed jeans
told me about some of the most popular jeans on the market (note: metallics are in!) and informed me that we can expect to see a Blessed & Cursed store opening in Los Angeles shortly.
Jabra
let me try out their new noise canceling headphones (which really do block out sound; I literally couldn't hear a thing!). I learned that
Crunch
(a line of gyms) has a new class involving drums, as well as belly-dancing and African dance classes. I was intrigued by
Thursday Friday
's totes, which are screen prints of iconic handbags on totes, so you can take your faux fancy handbag to the beach.
Gkhair
informed me that a small hair straightener is great for flyaways and for keeping your hair in tact, while
Fashion Forms bras
are great if you're wearing a strapless dress (or shirt).
Sookbox
, a system which allows you to play your favorite videos, music, and favorite apps on any TV or stereo, really intrigued Tucker, who watched himself in awe as
Rush Hour
was shown before him. And finally, Nina Dobrev and I couldn't stop feeling
Manito Linens
as she, the sponsors, and I discussed Canada (where the company is based). I really learned a great deal about Canada yesterday. (What I concluded: Canadians are extremely friendly, like warm weather because it is so chilly in Canada, and like In & Out Burger).
As I wandered around the gift lounge, I fell into conversation with a few of our favorite celebrities. Hannah Simone, who plays CeCe on the hit show "New Girl", told me that this week's episode will be a game changer, and informed me that she does Pilates to stay in tip-top shape. We also discussed why lasagna is the best comfort food on the planet, her go-to Spring must-have (answer: a great pair of shorts), and why long T-shirts go with everything. Chris Tucker and I discussed his great charity work with children, in which he told me that he loves working with kids because of how creative they are and how fun they are to be around. Mae Whitman ("Arrested Development", "Parenthood") introduced me to the miracle of wedges, a comfortable heel that you can wear to events and not hate your feet by the end of the night. Mae also told me that -- fingers crossed -- "Parenthood" will be renewed for a fourth season, and that we can expect to hear her voice in upcoming Disney and Nickelodeon movies/shows. Jason Schwartzman and I had a brief conversation about his hilarious TV Show, "Bored to Death," and why, as a writer, it probably wouldn't be a good idea for me to attempt to become a private investigator. I complimented Kerry Washington on her gorgeous dress and sense of style, and as she graciously thanked me, told me that she always tries to look "event appropriate." 
The awards ceremony itself was hosted by
Andy Samberg
, and big winners included
Silver Linings Playbook
(Best Feature),
Jennifer Lawrence
(Best Female Lead), John Hawkes (Best Male Lead),
David O'Russell
(Best Director), and
Matthew McConaughey
(Best Supporting Male) for his groundbreaking work in
Magic Mike
.
(Image via

FayesVision/WENN)
- Sarah Osman, YH Staff