Star-Gazing at the 2015 White House Correspondent's Dinner!
Written by Laura Carlson. Published: April 28 2015
ForPresident Obama's last White House Correspondent's Dinner, Hollywood glamour returned to Washington this past weekend for its annual "Nerd Prom". SNL's Cecily Strongtook the stage at the Washington Hilton with an audience that included everyone from actress Jenna Dewan Tatumand "Orange is The New Black" star Laverne Cox toSports Illustrated Swimsuit issue cover girl,Hannah Davis. There were also supermodels, and lots of them. Karlie Kloss,Chanel Iman, Adriana Lima, and even Naomi Campbell all strutted down the red carpet on Saturday night. Also spotted was Norman Reedus of "The Walking Dead", "VEEP" star Timothy Simons, musician John Legend and wifeChrissy Teigen, as well as cast members from both ABC's "Scandal" and Netflix's "House of Cards".
Rock The Vote held its annual kick off party presented by Twitter and Fusion with "Gossip Girl" star Kelly Rutherford. The former Lily Van Der Woodsen encouraged America's youth to get out and vote.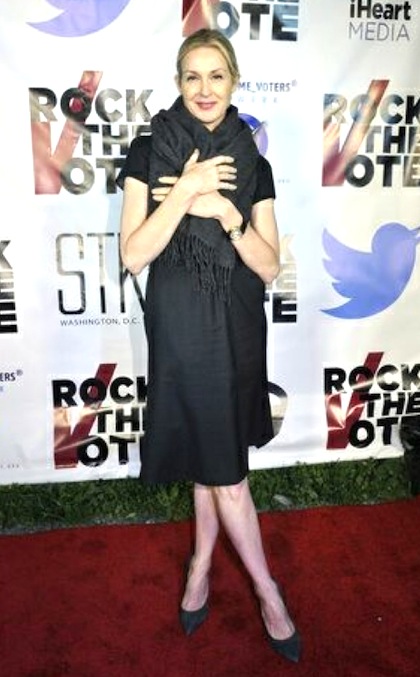 (Photo via Kris Connor)
Across town,Politico hosted "An Evening with John Legend" at the Longview Gallery. The musician performed his songs "Ordinary People" and "All of Me."
On Friday night, The Creative Coalition returned to STK for the Annual Supper Suite where Kelly Rutherford rubbed elbows with former castmate Michelle Trachtenberg and "Scandal" star Darby Stanchfield. "House of Cards" actress, "Madame Secretary" star Tim Daly, and actress Jennifer Coolidge dined on steak and chocolate cake after a day spent on the Hill promoting arts advocacy.
                                                                                                         (Photo via Michael Faulkner)
A pregnant and stunning Naya Rivera also came in support of the Creative Coalition, and, after taking selfies with everyone on the red carpet, chatted up "Empire" star Gabourey Sidibe most of the night.
The legendary White House Correspondent's Brunch focused on two veterans-focused non profits: Blue Star Families and Dog Tag Bakery. "Jane The Virgin" star Gina Rodriguez, supermodel Chanel Iman, figure skater Tara Lipinski, *NSYNC's J.C. Chasez, and "Community" star Gillian Jacobs were just some of the famous faces seen mingling at pre-party of all pre-parties.
(Top photo via Michael Faulkner)
Laura Carlson is an entertainment reporter who has covered red carpets in Los Angeles and Washington, DC. She is a slave to celebrity news and has a passion for pop culture. You can follow her on twitter @lauraleecarlson.