"Simpsons" Fans: Meet the Greatest App in the Universe
Written by Sarah Osman. Published: October 04 2014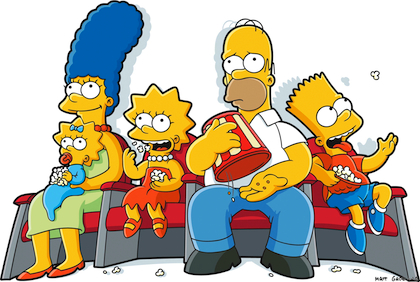 Coming fresh off the success of the 12-day "Simpsons" marathon, FXX has decided to bestow fans of the show with another gift: "The Simpsons" World, an app that will allow subscribers of FXX to stream ALL "Simpsons" episodes on any device. This means that you can watch any of the show's staggering 552 episodes, as well as create playlists, search for quotes, and share clips. As one of the world's biggest "Simpsons" fans, this may well be the greatest app ever made.
To celebrate the launch of "The Simpsons" World, I would like to share with you my top favorite "Simpsons" episodes. These are the episodes that any die-hard fan can watch over and over, and any newbie should skip to immediately:
1. "Homer's Enemy" (Season 8, first aired in 1997)
"Homer's Enemy" is a tricky "Simpsons" episode and a biting piece of social satire on American culture. It's not really a surprise that many Americans hated it when it first aired, yet fans from other countries loved it. In the episode, Homer's new co-worker, Frank Grimes (or "Grimey" for short), has lived a difficult life -- he grew up having to deliver gifts to more fortunate children -- and is stunned by Homer's complete lack of intelligence yet his supreme success. As Grimes attempts to point out to the other residents of Springfield that Homer is a few french fries short of a Happy Meal to no avail, he ends up going insane. Grimes has always reminded me a bit of a modern-day Poe creation as he progressively becomes more insane. I do think that while "Homer's Enemy" may not be the funniest episode per se, it does point out that there are some truly lazy people out there who somehow get their due over the truly hard workers of the world. Frank Grimes is all of us! And it begs the question of what happens to those folks who may not be the most likable but get the job done, as opposed to the amiable-but-lazy sloths of the world.
2. "I Love Lisa" (Season 4, first aired in 1993)
"I Love Lisa" may have the line that one of my best friends and I constantly say to one another: "Watch this, Lis, you can pinpoint the second when his heart rips in half!" Arguably one of the most charming "Simpsons" episodes to ever air, "I Love Lisa" reminds us of the importance of letting down someone who may have a crush on you gently. The episode opens with Bart scribbling rude messages on Valentine's Day candy hearts, and Lisa pitying Ralph Wiggum because he did not receive a single Valentine. After Lisa gives Ralph a pity Valentine (a picture of a train on it that reads, "I Choo-Choo-Choose You"), he falls madly in love with her. When Ralph simply won't take the hint that she's not interested, she eventually tells him that she never liked him on live TV -- thus leading to Ralph's heart ripping in half. Lisa eventually makes friends with Ralph (by presenting him with a new Valentine with a picture of Bee that reads "Let's Bee Friends"). The episode reminds us of the perils of young love, and how to politely make your feelings known. Because let's face it: how many of us have had someone get a crush on us that we just didn't like? (I also appreciate the episode's running joke that the radio station keeps playing "The Monster Mash" on Valentine's Day.)
3. "Lisa the Vegetarian" (Season 7, First Aired in 1995)
Yet another Lisa-centric episode, "Lisa the Vegetarian" features a scene in which the other Simpsons tell Lisa that she can't win friends with salad before beginning a conga line and chanting "You don't win friends with salad!" The charming episode features Paul McCartney and his late wife Linda as guest stars, both of whom agreed to appear as long as Lisa remained a vegetarian (which she has). The episode further strengthens the relationship between Homer and Lisa, the former of whom does not accept the latter's decision to no longer eat meat. In the end, the two do learn to accept each other's differences (with a little help from the McCartneys) but not before Lisa ruins Homer's BBBBQ by sending his succulent pig flying. The episode features some truly excellent lines and bits, including Ralph's comment after watching a video on cows being slaughtered: "When I grow up, I'm going to Bovine University."
4. "A Streetcar Named Marge" (Season 4, First aired in 1993)
"A Streetcar Named Marge" is one of those rare episodes where the original plan for the episode would have actually been worse than the episode itself. Originally, the writers wanted Marge to star inTennessee Williams's classic drama A Streetcar named Desire as Blanche DuBois but were not able to obtain the rights to it. So instead, the writers decided to make a musical version of the show entitled Oh Streetcar! where Marge would still play the lead. This turn of fate actually worked in the show's favor, as the musical is hilarious -- from the horribly offensive opening song (it was so bad that the residents of New Orleans protested it) to the awful "You Can Always Depend on the Kindness of Strangers". But this episode is truly Marge's, as she learns a bit about her relationship with Homer while playing the faded Southern Belle (and that Ned Flanders is surprisingly ripped, who knew?). Jon Lovitz's LLewellyn Sinclair is perfect as he claims that he has directed "three plays, and had three heart attacks" and calls Marge's brownies "a bite of banality." The episode also features a charming B-story on Maggie, based off of the film The Great Escape, where Maggie got to play the hero for once.
5. "A Star is Burns" (Season 6, First Aired 1995)
"A Star is Burns" is the first "Simpsons" episode to feature a crossover with another show: the short-lived yet brilliant "The Critic". Created by former "Simpsons" writers Al Jean andMike Reiss, "The Critic" followed Jay Sherman (Jon Lovitz), a plump and pretentious film critic living in New York. The episode was designed as promotion for "The Critic", whichMatt Groening did not take too kindly to -- it's the only "Simpsons" episode his name is not credited on. It's a shame Groening did not want to be associated with it, because the episode is hilarious. Once the residents of Springfield realize that they rank dead-last in pretty much everything, they decide to hold a film festival to attract tourists. Marge reaches out to Jay Sherman to be the guest critic for the festival, whom Homer quickly becomes jealous of (he does know all the words to the Oscar Mayer Weiner song). As the episode progresses, Homer learns to broaden his intellectual horizons, and Mr. Burns learns that certain things can't be brought. Barney submits a surprisingly poignant film on his addiction to alcohol (in which he shows up to a Girl Scout meeting and proclaims, "Is it? Or can't all you girls all admit you have a problem?"), and Mr. Burns hires Steven Spielberg's non-union equivalent, Steven Spielbergo, to make him look good. The best parts of the episode come in Jay and Homer's interactions, particularly when Homer attempts to look witty and states, "Well, Scooby-Doo can doo-doo, but Jimmy Carter is smarter." With gems like that, this may be one of the most underrated episodes of the series.
Which "Simpsons" episodes are YOUR favorites?
(Photo via WENN)
- Sarah Osman, YH Staff