Shark Week Is Back!
07-24-2022 by Noah Turner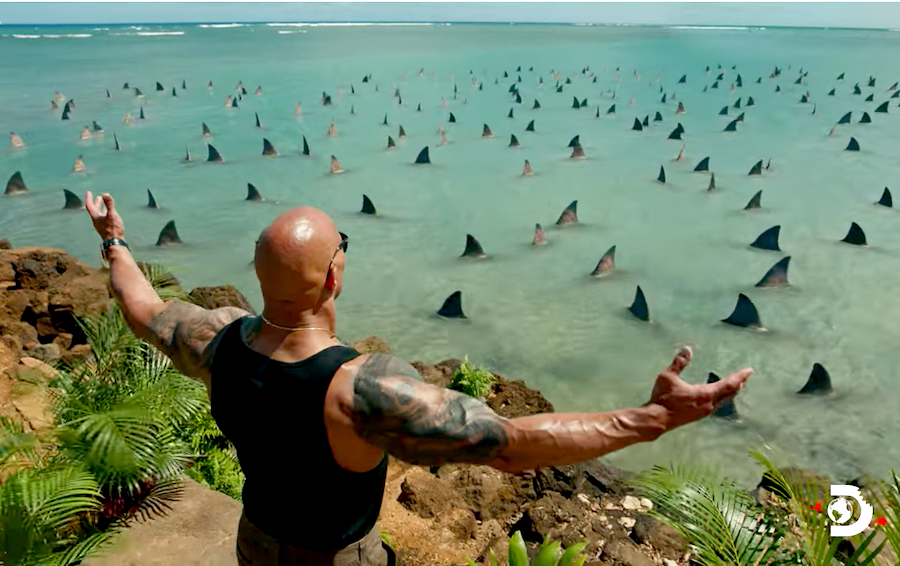 (Discovery)
Dwayne "The Rock" Johnson is set to host the 34th annual Shark Week premiering on The Discovery Channel TONIGHT (July 24). He has been crowned the event's first "Master of Ceremonies".
The annual series is returning this July with a promise of a whopping 25 hours of content. It will be the first Shark Week since Discovery acquired Warner Media for a hefty price tag of 43 billion dollars. It is clear that the newly developed media giant is planning on going all out for their beloved week-long event. Marketing the event as big and bold as ever.
Mega-star The Rock is not the only illustrious celebrity slated to join the celebratory week. Other familiar faces include popular comedian Tracy Morgan as well as the Impractical Jokers Sal Vulcano, James Murray, and Brian Quinn. The crew of "Jackass" are also slated to return for this year's festivities.
The events schedule includes but is not limited to:
"The Dawn of the Mako" (now streaming on Discovery+): A giant 14-foot Mako shark has been documented in the Azores. A couple comprised of marine biologist Lauren Romiero and her cinematographer husband, Joe, search the depths for the beast. 
"The Haunting of Shark Tower" (now streaming on Discovery+): Cinematographer Andy Casagrande and shark expert Kori Garza embark on a dangerous journey investigating the alleged encounter of a Great White shark reported to be off the coast of North Carolina. 
"Great White Open Ocean" (July 23): Following a fatal shark attack in 2018, it is about the worrying re-emergence of Great Whites on the coast of Cape Cod, and what that means for the local coastal communities.
"Jackass Shark Week 2.0" (July 24): The "Jackass" crew is back. Familiar faces such as Wee Man, Chris Pontius, and Odd Future alumni Jasper return to finish what they started, and helping their friend Poopsie get over his crippling fear of sharks.  
"Great White Open Ocean" (July 24): After narrowly surviving the clutches of a Great White, diving expert Jimi Partington returns to attempt to overcome the PTSD the event instilled in him and get back to doing what he loves most: diving with sharks.
"Impractical Jokers Shark Week Spectacular" (July 26): The comedic trio take to the high seas, hoping to dispel any myths and mistruths about the beasts of the ocean in the only way they know how -- ruthless and impractical dares.
"Tracy Morgan Presents: Sharks! With Tracy Morgan" (July 28): "Hi, I'm Brian Fellows--er, Tracy Morgan!" The hilarious comedian teams up with shark experts throughout the country to identify and document the craziest, most deadly sharks in the world. From rare species to ferocious predators, Tracy discusses his favorite sharks and their status as expert hunters.
Check out the full lineup here. Happy Shark Week!