Seeso's "Shrink" Will Get Inside Your Head!
Written by Sarah Osman. Published: March 11 2017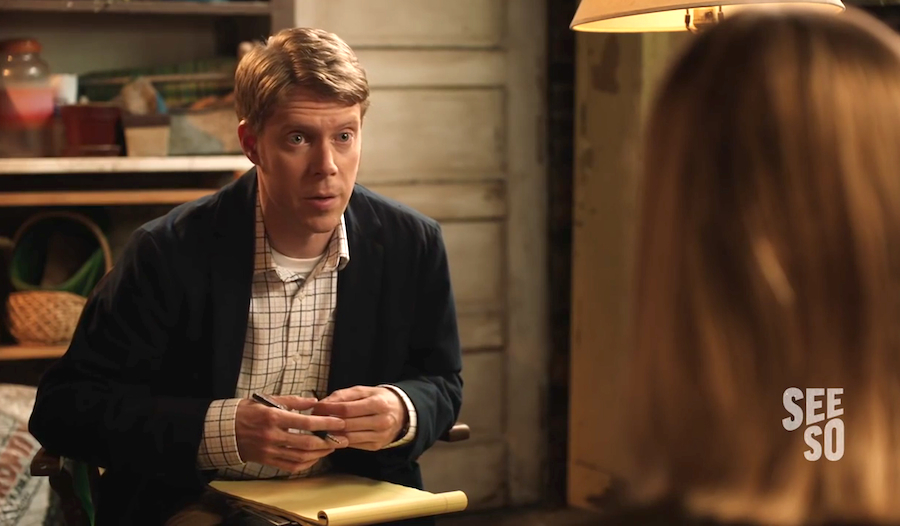 When a friend of mine was studying psychology in college, she was forced to watch hour after hour of couples therapy sessions. Each session became increasingly absurd, as patients discussed simple things such as one not doing the dishes all the way to one stealing another's WoW character. She found the sessions to be a rather voyeuristic form of entertainment, and began to wonder why there haven't been more TV shows involving therapy sessions, as they are ripe for comedy.
Enter "Shrink", the latest comedy from NBC's streaming service Seeso, which capitalizes on that concept. Starring Tim Baltz and created by Baltz and Ted Tremper ("The Daily Show"), the show pulls humor from therapy sessions, all while never actually making fun of the patients. In the making for five years, "Shrink" was actually inspired by a roommate of Tremper's, who, after graduating from medical school, had trouble getting into a residency and consequently was saddled with a great deal of debt. Tremper began to wonder what actions that one (beyond his roommate) might take in a situation like that; hence "Shrink" was born.
The comedy follows David (Baltz), a recent medical school graduate who, after not being accepted into a residency, decides to become a clinical therapist. He decides to record 1,920 hours of supervised clinical sessions in an attempt to become a therapist and pay off his half-million dollars in debt. He posts an ad on Craigslist offering his services, and begins to meet with clients in his garage.
A great deal of the sessions in "Shrink" were actually improvised, which create its natural and realistic humor. For instance, one actor was simply told that he whispers and has a baby, and he created an entire plotline in which the character wants to write a series of children novels set across 50 states (the best one involves a bear attack in Vermont). The improvisation is not only impressive but actually feels like a therapy session in itself, similar to the bizarre ones my friend was subjected to in her undergrad. A few of my favorite sessions include one in which David imitates Matthew McConaughey, a woman who happily listens to and offers advice on David's problem, and one patient who simply walks out when David informs her that he must report elderly abuse or acts of terrorism.
While "Shrink" is primarily a comedy, there are plenty of heartfelt moments throughout the show, taking it into the "emotional comedy" territory (other shows that fit this bill include "Parks and Recreation", "The Office", and "Unbreakable Kimmy Schmidt"). On his journey to becoming a therapist, David has to do a bit of soul-searching himself, and the moments between his own therapist, his friends, and his family, are just as emotional as some of the breakthroughs of his own clients.
Although watching therapy does feel a bit voyeuristic, "Shrink" reminds us that we are all human, and even though our problems may vary, our feelings do not.
"Shrink" premieres on March 16 on Seeso.
(Image via Seeso/YouTube)
- Sarah Osman, YH Contributing Writer