Season 2 Teaser for "OITNB" Revealed!
Written by Sarah Osman. Published: February 21 2014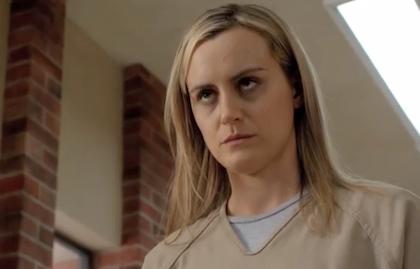 Mark down June 6th on your calendars, dear readers, because if you're anything like me, you will be glued to your TV set or computer watching Season 2 of "Orange is the New Black"! Everyone's favorite prison ladies will be returning, and since it's on Netflix, all 13 episodes will be available to stream at once! Thankfully, June 6 is a Friday, so we can all get nestled in with a bowl of popcorn and binge-watch the entire season from start to finish over the weekend.
The announcement came via a short-teaser trailer at the end of the last episode of Season 2 of another popular Netflix original series, "House of Cards":
The trailer hardly gives anything away, but Alex Vause (Laura Prepon), main character Piper's (Taylor Schilling) ex-lady love, is not in it, although creatorJenji Kohan has confirmed that she will return for parts of the second season. The trailer does include snapshots of some of my personal favorites, including Crazy Eyes (Uzo Aduba), Pornstache (Pablo Schreiber -- he is just so slimey of a character!), and Taystee (Danielle Brooks), who recently popped up on an episode of "Girls". Kohan has also revealed that this season will not only focus on Piper and her journey, but the entire ensemble's journey... looks like there could be more storylines in here than a season of "Lost"! (I'll see myself out for that joke...)
Are you stoked for the new season of "Orange is the New Black"?
In the meantime, check out our chat with the fabulous and amazing Uzo Aduba at the YH Studio!
(Screenshot via YouTube)
- Sarah Osman, YH Staff