Royals, Dragons, Drones, & Other Exciting Moments from Milan Fashion Week!
Written by Ali Shannon. Published: March 07 2018
Gucci didn't just take us to a new level but to a new planet this season, and it got weird -- in the best way possible! We usualy see the who's-who of the fashion industry, but what we don't typically see are severed head replicas, dragons, and snakes. While unveiling its Fall and Winter collection, Gucci had two models walk the runaway carrying eerily identical and realistic replicas of the model's heads. Creative Director for Gucci, Alessandro Michele, said his inspiration this season wasDonna Haraway's 1984 essay "A Cyborg Manifesto", which crtiques identity and predefined cultural boundaries. Other surreal accessories include a replica of a small dragon, holding snakes and lizards, and walking around two surgical tables.
To take a closer look into the making of the accessories, check out this video!
Here are some other buzzworthy moments from Milan Fashion Week!
Royals on the Runway
One of the breakouts of the week was Princess Diana's niece,Lady Kitty Spencer. The blonde-haired, blue-eyed model walked the runway for Dolce & Gabbana's show and was featured in their Spring/Summer 2018 ad campaign. She also donned a tiara on her way down the catwalk, because it's only fitting.
                                                                                                                                                                                             (

Venturelli/Getty Images)
Drone Takeover
Dolce & Gabanna gave their models a run for their money this season! The fashion house introduced their newest models... half a dozen drones! Each flew down the runway with D&G's latest "Devotion" quilted bags. Definitely not a job I expected to be taken over by machines. This surprise required the entire theater of guests disabling their WiFi, but it was worth it to watch the DGDrones take over. It does set unrealistic body standards for the rest of us, though, don't you think?
Alien Vibes
Aliens took the runway this season, with designers looking to space for their inspiration. Hogan's metallic sneakers, as well as Gucci's cyborg, but Moschino's Jackie O. clones took the cake. Spearheaded by insane genius Jeremy Scott, the designer took his collection to a new level, painting the models faces and skin an electric blue and other extraterrestrial shades.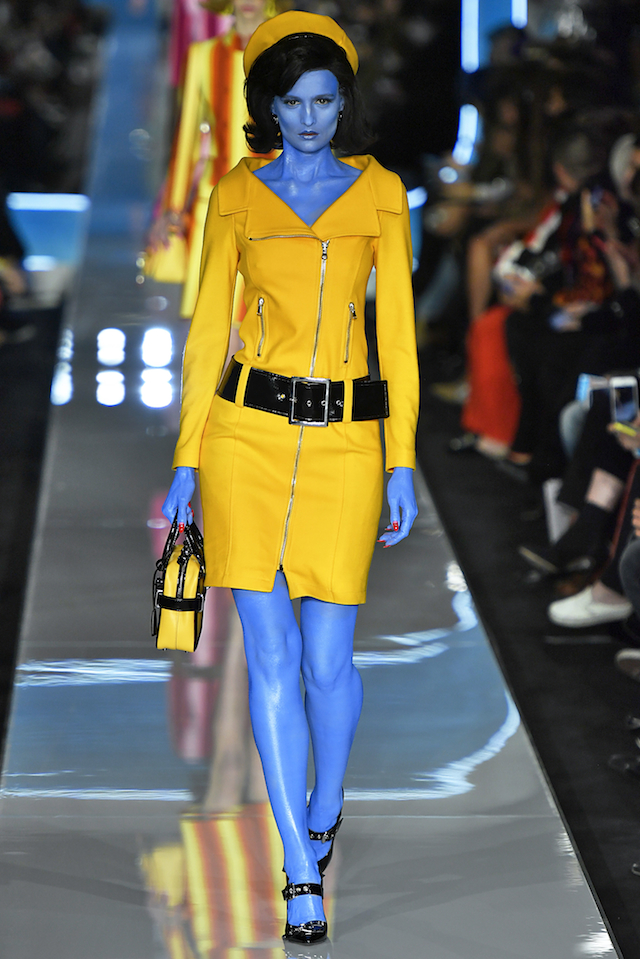 (

Victor VIRGILE/Getty Images)
Gigi Hadid, Because It's Gigi
For her fourth and final collaboration with American designer Tommy Hilfiger, Gigi Hadid did not disappoint. She made the show a family affair, with her younger siblings,Bella and Anwar, donning her designs. They revved up the week with an interactive fashion show inspired by the world of Formula One. This fourth and final "see now buy now" event also celebrated their partnership with Mercedes-AMG Petronas Motorsport, a move that solidifies Hilfiger as their official apparel partner in 2018. Gigi of course was the star of the show, and brought it with the race-themed collection. Can someone Venmo me so I can buy some?
The Year of the Dog
If Gucci's baby dragon and iguana aren't your cup of tea, Tod's fall 2018 collection probably is. Models carried unbelievably adorable puppies as their accessories, from snuggly Chihuahuas to Maltese mixes. It was definitely a Moment. His collection also had little nods to the animals, with dog-shaped key chains attached to bags and a color palette that coordinated nicely with the real stars of the runway.
                                                                                                                                                                                          (

Catwalking/Getty Images)
(Top Image via Venturelli/Getty Images)
- Ali Shannon, YH Contributing Writer