"Riverdale" Meets "AHS"? "The Chilling Adventures of Sabrina" Trailer Looks Scary AF!
Written by Brooke Sharland. Published: September 14 2018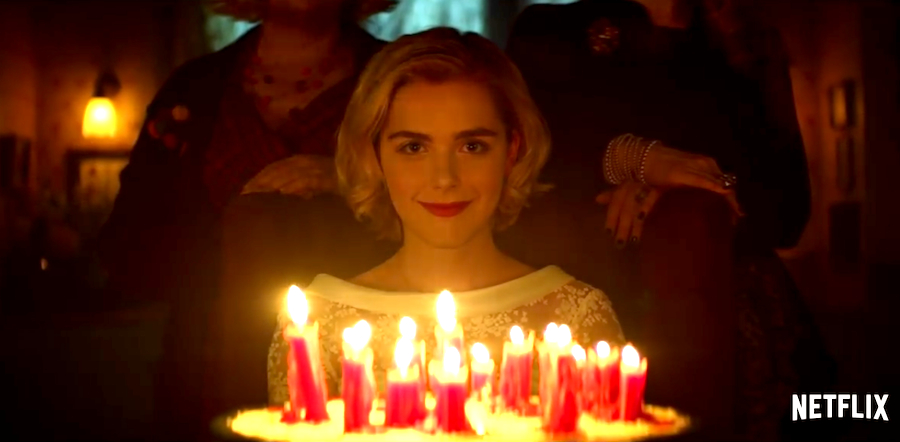 This is not the Sabrina you grew up with. No fun and trendy '90s clothing. Our sarcastic yet lovable Salem the cat is different and reimagined. This is not a silly teen sitcom with Melissa Joan Hart. This is darker. Much darker.
Earlier this week, Netflix answered our prayers and FINALLY gave us the first teaser trailer for it's all new series, "The Chilling Adventures of Sabrina", and let me just say, I'm terrified. We see our star,Kiernan Shipka, as Sabrina Spellman, placed in some very scary scenarios.
First of all, this entire trailer has a VERY creepy rendition of "Happy Birthday" playing in the background, and it's unclear as to who's singing it (my guess is on Sabrina herself), but it appears to be Sabrina's birthday. Anyways, the song is creepy. It puts you on edge and makes what we're seeing on screen feel out of place. It gives the whole trailer an eerie vibe and makes you super uncomfortable. Like, more uncomfortable than when Betty sang it (by herself) to Jughead on "Riverdale" and everyone was like… "this is an awkward moment…"
The teaser shows happy, teen moments, like Sabrina dancing around at a party or kissing her hunky boyfriend Harvey Kinkle (we see you,Ross Lynch), mixed with dark, dreadful, and downright scary moments, like Sabrina in a bathtub in the woods, what appears to be a sacrifice, possibly an exorcism, and scary demon-like creatures all over.
The whole thing is just… creepy. Spooky. Basically any synonym for the word "scary" applies here. One of my favorite moments is at the end of the trailer, when Sabrina finally reaches the table and all of her friends are there to finish singing the last line of "Happy Birthday" (joined by a very weird, freaky-looking creature sitting across from Sabrina), but then the next shot is her blowing out the candles in front of an empty table. Woah. Chills. (Haha, get it? Chills? Am I the only one laughing to avoid how scared I am by this trailer? Probably.)
The all new take on a classic character comes from the mind of "Riverdale" creator Roberto Aguirre-Sacasa. Since "Sabrina" and "Riverdale" both come from the same comic book universe, perhaps we'll get some Archie Comics easter eggs in this brand new show, but for now, there are no plans for a crossover between the two.
Season 1 of "The Chilling Adventures of Sabrina", which will be 10 hour-long episodes, flies on its broom to Netflix on October 26. Just in time to binge it all right before Halloween!
(Image via Netflix)
- Brooke Sharland, YH Contributing Writer