Remembering "Parks & Rec" Writer/Producer Harris Wittels
Written by Kevin Donaldson. Published: February 25 2015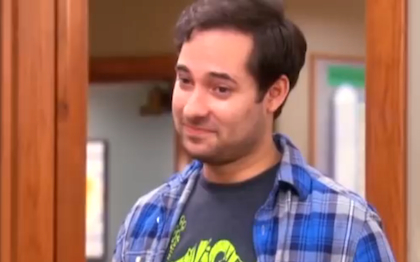 Many people not involved in or a huge fan of Hollywood's comedy community might not know exactly why the death of "Parks and Recreation" writer and executive producer Harris Wittels has caused such a big response from comedians like Sarah Silvermanand Amy Poehler. Well, this 30-year-old wunderkind led one crazy yet awesome life before his tragic end.
Wittels grew up in Houston, Texas, where he developed the persona in school as "the drug guy" and has seen the popular jam bandPhish play more times than he could count. He ended up attending Emerson College in Boston, Massachusetts, and graduated in 2006 with a degree in television/video production. Pretty much right after Wittels graduated college, he headed off to Los Angeles to start his career in comedy, as one does.
Wittels found early success here in L.A. He did some stand-up and one night in 2007 caught the attention of comedienne Silverman. In case you forgot about what Silverman was up to in 2007, it was a break-out year of sorts for her, as she had her TV show on Comedy Central called "The Sarah Silverman Program". Silverman liked Wittels's comedy so much, she knew she had to have him write for her TV show. Wittels, not being an idiot, accepted her job offer and thus began his quest for more money, and not a whole lot of fame, which he seemed very comfortable with.
Silverman has been noted to be extremely upset by Wittels's death, due in part to the fact that she gave him his start. She recently tweeted:
He was my baby. I just keep thinking of superman flying backwards around the earth. I wish I could do that. I'm so mad at you Harris

— Sarah Silverman (@SarahKSilverman) February 20, 2015
You should know that Harris was brilliant beyond compare. That his imagination was without limit. That he loved comedy more than anything.

— Sarah Silverman (@SarahKSilverman) February 20, 2015
That his heart was big and he FELT hard. That he was someone who would reach out to tell you he was thinking of you for no particular reason

— Sarah Silverman (@SarahKSilverman) February 20, 2015
That he was honest even if it was gonna piss u off or make him look shitty. He told the truth. Even when it was ugly. Even when he lied.

— Sarah Silverman (@SarahKSilverman) February 20, 2015
Wittels had some other writing jobs, but his next big one was for NBC's highly successful mockumentary "Parks and Recreation". The reason why Wittels is so popular with a lot of people, though, has nothing to do directly with "Parks and Rec" but more with his Internet presence. Wittels was a guest on many podcasts, including "Comedy Bang! Bang!", and managed a very popular Twitter account where he tweeted jokes like, "Wheat Thins? Call me when they're Wheat THICKS! Gimme that wheat!" He is even credited with inventing the term "humblebrag" and made a Twitter account for it. A humblebrag is when you brag about something in the form of a complaint. For example, one might say something like, "I love hot towels so much, but sometimes my flight attendants heat them too much whenever I'm flown in my luxury jet to my own private island." The concept of the "humblebrag" even got Wittels a book deal. Check out the commercial he made below with the help of some friends from "Parks and Rec":
Humblebrag marked a high point in his career, as well as a low point in his personal life. Wittels describes this time in detail on the Peter Holmes podcast "You Made It Weird" and spoke about how he had been taking oxycodone pills before this book deal, but really amped things up when writing. Despite not seeming like a series of rants by a drug addict, that's more or less how Wittels says the process was for this book. Much of the drug abuse at this time was sparked by an on-and-off relationship with a girl he dated that he said was "perfect."
"Parks and Rec" creator Michael Schur has said before how much he loved working with Wittels, but noted that were times when pitching jokes in the writers room that he was half asleep and sometimes even completely passed out, but still managed to pitch jokes.
But Schur loved Wittels, and Wittels spoke highly of Schur on the podcast, particularly when it came to being allowed to go to rehab and come back to his job with no problems. Schur also spoke about insane arguments the two would have, like one time when Wittels fought hard to the make a point that the Silversun Pickups could've been just as good as The Beatles if they had come out of Liverpool in the 1960s. Schur would get angry in such arguments but then realize how ridiculous the whole thing was and that Wittels was just trying to get a rise out of him, so then Schur would hug him because, as Schur said, "he was basically a human teddy bear."
It's a harsh end for a comedian who touched so many other comedians. EvenAziz Ansari has spoken out about a project that the two were going to work on together in New York City sometime later this year. Now that Wittels has passed away, we may never know what that project was going to be, and we'll never know what Wittels could've ultimately been. So let's take a look at some of the times Wittels stepped onto screen to make "Parks and Rec" fans laugh as one-half of Pawnee's completely irresponsible and tripped-out Animal Control team:
Rest in peace, Harris, and thank you for the laughs.
(Screenshot via YouTube)
- Kevin Donaldson, YH Staff