Robin Wright Ready To Take Charge of "House of Cards" Final Term!
Written by D.J. Rivera. Published: September 12 2018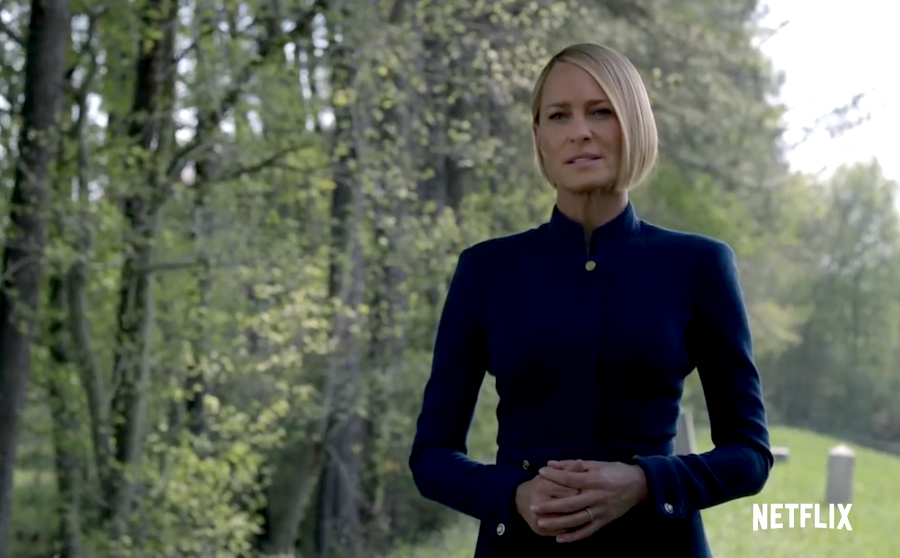 There is no question that actress and director Robin Wright is having a stellar run as of late and she shows no signs of slowing down. Whether she is playing an Amazonian warrior in Wonder Woman or a Replicant-hunting police chief in Blade Runner 2049, Robin Wright is a force to be reckoned with onscreen and she is personally one of my favorite actresses in the game today. After a career of solid supporting roles, she will finally be taking the reigns as the President of the United States and full-fledged lead in the upcoming final season of Netflix's flagship series "House of Cards."
Fans of the series know Wright's character Claire Underwood as the wife of the politically corrupt Frank Underwood as well as his greatest ally in their controversial moves up the political ladder. While onscreen her character is very sinister, off-screen Wright is a modern day hero for the people of the production of this D.C. drama.  After a terrible scandal involving the show's former starKevin Spacey, Netflix almost impeached one of its most-watched and critically-acclaimed series. According to co-starPatricia Clarkson, "Robin led all of this charge so that people would save their livelihoods, because when the show goes away, some people don't get paid." Wright made sure the production was brought back for a final run after being on hiatus once the terrible news broke, and even though it's the beginning of the end, Claire Underwood is just getting started.
For Netflix to call it quits with how the last season ended would leave hardcore fans without closure, and things were just getting every interesting for Claire Underwood, as she had just become the first female President of the United States through less then conventional means. Fans were very eager to see how Mrs. Underwood would handle things as Commander-in-Chief given the story's current political climate, residing scandals, controversial decisions, and a trail of bodies that have piled up since the show's first season. Despite all this, Robin Wright shows fans that she's in charge and plans to completely eclipse her husband's legacy in the latest tease for the highly anticipated final season.
Without spoiling too much of the story, her husband's departure makes a lot of sense given where the series left off and the stakes Wright's character is willing to go to become the most powerful person in the world. Last we saw her, she was in the Oval Office breaking the fourth wall Deadpool-style, telling viewers that it's her turn. It's very fitting she would usurp him because all this time she has truly been the fan favorite. Now serial bingers and casual Netflix viewers will get to witness what a regime under Claire looks like. And from the plan her ill-fated husband lays out in the Season 5 trailer, it looks like Claire intends to continue what he started and will be leading one nation "Underwood" for more than just the two-term limit.
Wright is a powerhouse on this series, not just starring in every episode but also successfully directing 10 of them. While she has done a great job helming episodes, Wright's performance in the series is nothing short of flawless and proves the actress should be on top of everyone's list when it comes time to cast their next female lead. This upcoming season that she fought so hard to attain looks to showcase a career-defining performance from the Golden Globe-winning actress. Her final run as Claire will be joined by fellow cast mates that include Diane Lane,Greg Kinnear, Cody Fern,Michael Kelly, Jayne Atkinson,Constance Zimmer, Derek Cecil,Campbell Scott, and Boris McGiver.
Robin Wright will start her final term on Netflix when all 8 episodes of the final season of "House of Cards" become available on November 2, 2018!
- D.J. Rivera, YH Contributing Writer