Quentin Tarantino Looking to Adapt 'The Hateful Eight' for the Stage!
Written by Kevin Donaldson. Published: January 16 2016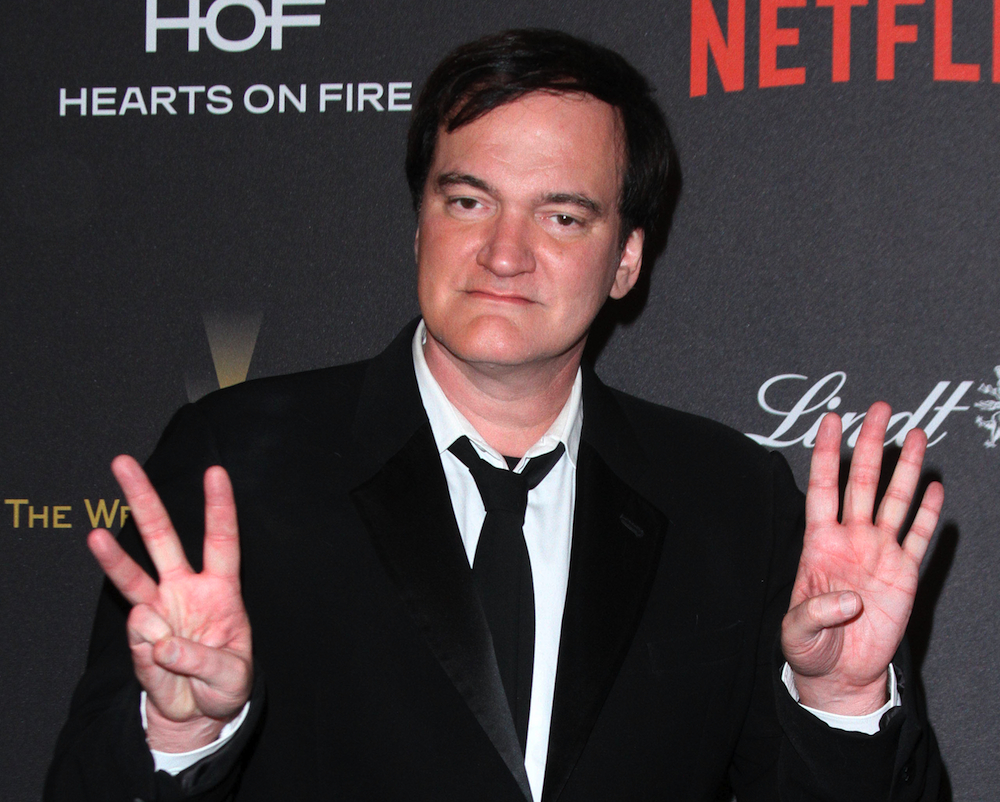 All things considered, with juggernaut films like Star Wars: The Force Awakens and The Revenant coming out this holiday season, filmmaker Quentin Tarantino's eighth film,The Hateful Eight, has done pretty well for itself. The film is making money at the box office, and it's up for a few Academy awards this year. It also isn't the first time it's beaten the odds, considering that the script leaked very early on and Tarantino was talking about not even making the film all together, but he has another trick up his sleeve now… he wants to makeThe Hateful Eight into a stage play.
He hasn't released word yet as to if he intends for it to hit Broadway, but that'd be a good guess by anybody. He has said, however, that he is putting off for the time being: "I've thought it out completely. I'm just waiting for this [awards] season to be over so I can write it." Award Season does get pretty crazy, so it makes sense to want to decompress after the whirlwind.
Anyway, If you haven't seen The Hateful Eight, I can tell you that it's Tarantino's first movie since Reservoir Dogs that could easily take place on stage. Like Reservoir Dogs, much of the film is set in one location, in this case an inn. There is quite a bit of Reservoir Dogs that occurs in other locations through flashbacks, and The Hateful Eight has that here and there on occasion as well, but for the most part, it's in one setting, and the flashbacks don't even need to be shown necessarily for this one. Now, I have no idea what Tarantino has planned for this stage play, but if he gets all the exposition from the beginning and takes it inside the inn rather than outside in the snow, then BOOM! he's got himself a stage play with almost no effort. (Or he could make audiences watch it take place outside and then go inside the theater with the actors. Might be messy, but that'd be kind of cool.)
There were light rumors early on after the leak that The Hateful Eight might become a stage play instead of scrapping it all together, like Tarantino teased about. When discussing the idea of a stage play, Tarantino went on to say that "Harvey (Weinstein) actually — he tried to talk me into doing it as a play first. He said, 'Let's just say this out loud before we commit to doing the movie.' And I was like, 'Look, I could. But I like the mystery aspect, and the mystery aspect will really only work in the movie. And I have the 70mm and I have the snow. So let me do that.' Well, hey. An EGOT is still an EGOT even if it's soaked in gallons upon gallons of fake blood."
High hopes on this one getting you a Tony there, aye, Tarantino? I'm sure it's a possibility, though, my friend. I'm just wondering where those Emmy and Grammy awards will come from... I'm sure Tarantinocould make a truly awesome TV show. In fact, thinking about it, I would really LOVE to see what kind of TV show he could make. As far as a Grammy goes, Tarantino will either be a lounge singer named Tarantini, a salsa singer named Tarantito, or a rapper named Tear-In2-Her. Either way, those last three imaginary projects for Tarantino sound like gold to me! (And for the record, I'm sure the EGOT he was referencing is really for Weinstein, but I gotta see Tarantino attempt to be a gangster rapper already!)
In the meantime, be sure to see The Hateful Eight film (in 70mm glory!), now in theatres!
(Photo via Adriana M. Barraza/WENN)
- Kevin Donaldson, YH Contributing Writer