Quentin Tarantino Back in the Saddle with Western Starring Christoph Waltz
Written by Sarah Osman. Published: January 20 2014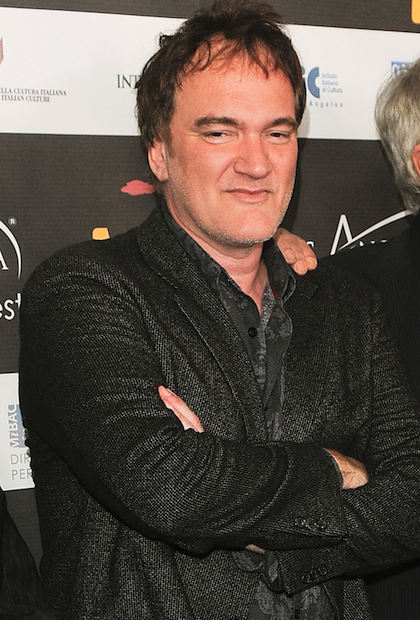 It's been a year since we were last treated to the obligatory bloodbaths and witty retorts that are the signature of quirky mastermindQuentin Tarantino. The director is ready to return with a bang (literally) with his next film, titled The Hateful Eight, which will be another Western. Or, perhaps more specifically, his first Western, as he considersDjango Unchained a "Southern". The new film's script has been completed, but Tarantino, who has won two screenwriting Oscars, has yet to reveal any specific details of it. Could it possibly be similar to another classic Western, The Magnificent Seven, or will it veer off into a completely different direction? Or could the new film even be part-musical/part-Western à la Paint Your Wagon? I wouldn't put it past Tarantino to do any of that, perhaps even simultaneously.
In the meantime, Tarantino has revealed that everyone's favorite Oscar-winning Austrian, Christoph Waltz, will star in the new film, so already it has that going for it. Tarantino has even written a special part for Waltz, yet he has not stated if Waltz will be playing a hero or a villain. There is no word yet whether or not America's favorite bad ass, Samuel L. Jackson, will make an appearance, but considering the many Tarantino films he's been in prior to this, I think there's a high chance he will at least make a cameo.
The Hateful Eight is set to begin shooting this summer. Till then, let's all speculate on how insane this Western will be. I thinkClint Eastwood should pop up in, considering he really is the "sheriff" of the Western genre.
UPDATE: We have just learned that Tarantino has decided to scrap this project indefinitely after a draft of the script leaked to the public. The writer/director is apparently steamin' mad, especially since the script had only been distributed to a handful of trusted(?) associates. He states that he plans to turn the screenplay into a book instead. Here's hoping the matter blows over and he opts to move forward with filming! -- Katie Marzullo, YH Staff Editor
(Photo via Daniel Tanner/WENN)
- Sarah Osman, YH Staff