Q&A: Wrathschild
Written by Skyler Wahl. Published: May 28 2014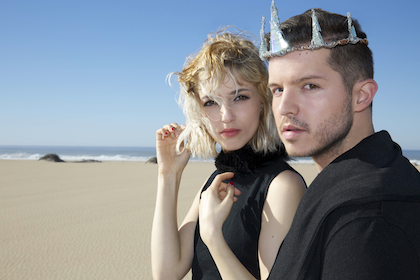 Immensely talented LA-based pop duo Wrathschild, comprised of Simon Curtis and Wolfy and their producer Ray Reich, have achieved huge success from their self-produced first single, "Fall Into Love". They shared with us how Wrathschild came to be, their creative process, and what to expect from their second single!
YH: We LOVE the music video for "Fall Into Love". Everybody on YouTube was commenting on the music video asking where in the world you guys found the onesie & body suit!
SC: The director had this vision for what we would be wearing in the video, and he worked with the designer Marco Marco, who is now a great friend of ours through the project, to make those happen and give us these quirky, mischievous, other-worldly looks. Some of his inspiration was from Where The Wild Things Areand The Lost Boys from Peter Pan.
RR: [Simon & Wolfy] walked into the star lair, which is where the director holds all of his gatherings and accessories, and were like, "That's what we're wearing? Okay!"
W: We said like very cinematic for the video. For the next video, we'll definitely have multiple looks. For this one, it was sort of like, "stick with this one thing, it's going to be like a day in the life." It was crazy. It was fantastical.
SC: Yeah, I think it was just supposed to evoke nostalgia and, you know, in kind of the ways the song also does.
RR: It was like a dream where you're wearing the same thing the whole time.
W: Everyone did an amazing job making it look like a million bucks and look like there was a set, but there were people walking through the shots. You can kind of see a little bit of that behind the scenes in the footage we posted to YouTube. There was this guy standing in the corner, and I noticed him out of the corner of my eye taping me on his phone and cracking up! I was like, "Hey! Hey!", and he was cracking up and hid his phone and was like, "I'm sorry!"
YH: Simon, you said you heard Wolfy sing the chorus in a voice note on your phone and rushed over to the studio. So, was it originally a solo track for Wolfy?
SC: No, it was just at the time when we'd just made the decision to start fully pursuing Wrathschild. At the same time, Wolfy was still submitting songs to her publisher, and Ray had an opportunity with the producer/manager he was working with to submit songs for the new Kesha album. And we were all kind of brainstorming ideas for Kesha. Wolfy sent me this voice note as I was driving out to my godson's baseball game, and I was just like, "I have to turn around and get home and work on this song." So, it was really exciting from the moment I first heard her singing the chorus into the phone.
W: So for five months, it was Kesha's song. We never thought "Wrathschild"; we'd already been making music for us, and it was slightly on a different path.
RR: Months into it, other songs had already been recorded, and we were like, "Wait… is 'Fall into Love' ours?"
SC: Yeah, it clicked. It wound up never being submitted.
YH: I read that you guys came together to create Wrathschild about two years ago?
SC: Yeah, you know, I think that the idea of Wrathschild came longer than that. Probably like three-and-a-half, four years ago almost. We had the idea for it, but it was never something we were seriously pursuing. Then we were both at this point where we wanted something new in our careers, and we were trying to come up with a project that was really going to break us through and allow both of our work to reach the next level. We decided to seriously pursue Wrathschild, and it was right at that time when she met Ray. It was just perfect symbiosis, and the sound of music that he made was perfect for what we wanted to do, and we all three just started working on honing in on the sound. So, the two years is from us, all three, getting together saying, "We're going to do this."
W: We wanted it to be super organic, and we all sort of came from backgrounds where people were really down our necks. One day we were like, "It is time to do our own thing."
SC: We just wanted to shed all of the things that people were trying to make of us, and make ourselves, together. I feel like we really accomplished that.
YH: You both co-wrote the track. What's your writing process like for Wrathschild?
W: It varies. Sometimes, we'll send a voice note to Ray and be like, "Here's our melody and lyric idea – are you inspired by this?", and he'll throw together a track around it. Other times, he'll have a track that really inspires us, and we'll each go and write something to it. We kind of have to pitch ideas to each other too.
SC: It normally winds up in one capacity or another, one of us pitching an idea to the group and us deciding to move forward with it and then starting to work on it. Whether that idea is a full verse and chorus and lyrics and a melody, or it is just a sound, or a track from Ray, or if it's just an idea.
W: There is a lot involved. We fight – not violent mean. It's really funny.
SC: When you're both passionate about something, you end up debating things, and you wind up getting heated about things.
W: Especially when you have three creative people in the room, who all want to have a say.
SC: We're all very passionate about music and Wrathschild. But it all ends up leading to a better product.
YH: To have three people contributing, I imagine there is never a shortage of opinions!
W: Definitely not!
SC: Definitely not!
RR: We're able to vote on stuff 'cause there are three of us. It's not about shooting down bad ideas; it's just picking the best ideas, which is important to remember.
YH: You have said that the second single is grittier and a little more personal. On a scale of "Lindsay Lohan, A Little More Personal" to "Britney Spears, Britney Jean", how personal are we talking?
SC: It's a whole other ballgame. It's kind of like the sonic embodiment of a diary of L.A. Somebody recently described it back to us as being "a home video of Los Angeles", and I think that's a really great way of describing it.
YH: Those familiar with your previous work might say that you go for a darker, dirtier dance-pop. So, is the new track in line with that, or is it more of the lovey glowy feeling of "Fall Into Love"?
W: It's definitely darker, and an insight into how L.A. might not be all the glitz and glamour that people outside of here see. There were really dark things in our past that I think we've healed from, so, in that way, it's more optimistic.
SC: I wouldn't call the song dark so much as I would call it bittersweet... or having an air of melancholy about it. And that's one of the things I think that's really beautiful about Los Angeles itself. It's such a beautiful invigorating place, and full of so many hopes and dreams, it's so optimistic. But at the same time, it's so broken and so sad, and there's something that's so depressing about it. There's something that's very difficult and hard about L.A. So, I think it's something we touch on, in a personal angle, in our next single.
W: I think, more than anything, it's self-reflection. [Simon, Ray, and I] talked about it being a metaphor for death & rebirth. And I think it's that -- equivalent to looking at yourself in the mirror.
SC: The song was conceived out of dwelling on this metaphor of Los Angeles being the afterlife; for some people, it's heaven, for some people, it's hell, and that's where the core concept of the song came from.
YH: In the behind-the-scenes of the "Fall Into Love" video shoot, Simon says, "Oh, I can't see [Ray] because he's standing in the shadow," and then blesses the viewers and sings "Shadow" by Britney Spears.
SC: Yes!!
YH: Now I have to ask, what's y'all's favorite Britney song?
W: Britney is the idol of all idols.
SC: Ditto.
W: When I was in middle school through high school, I would just stand in front of my mirror and lip sync to Britney. I mean, everyone has been there.
RR: Their stunning performance in the "Fall Into Love" music video, where they are singing a foot from the camera, is entirely due to the years spent singing in front of the mirror.
SC: When we shot the video, we were so excited because we had a ring-light; it's a light in the shape of a ring that goes around the camera lens. It's the "pop star light."
YH: It's the same light used in Miley's "Wrecking Ball" – if you look closely, you can see the light's reflection in her eyes.
SC: Exactly! But it makes you glow and look like a pop star. It's a signature Britney look. So we were so stoked that we were getting to have our "Britney Moment."... One of my top favorites is "Can't Make You Love Me"; I love the whole Oops… album.
W: I love "Cinderella".
SC: And "Unusual You".
YH: Before Wrathschild, you were both solo artists. What's the biggest challenge of working with someone after having a solo career?
SC: Relinquishing control. When you're doing solo work, you run the ship, you call all the shots. Working in a group, we have to compromise. It has to be a joint decision with everything. Ultimately, I think it's about making a superior product.
W: For me, I prefer working together. Honestly, when I was in [Candy Coated Chaos], I said "Never again." But I think, right now, Simon and Ray are the only people I'm happy to work and share my creativity with. It's been super enjoyable.
Keep up with this dynamic duo on Twitter and Instagram and check out their "Fall Into Love" video below!
(Photo via Dayne Farley)
- Skyler Wahl, YH Staff