Q&A: Real New Jersey Housewife, Caroline Manzo
Written by Sarah Osman. Published: March 22 2013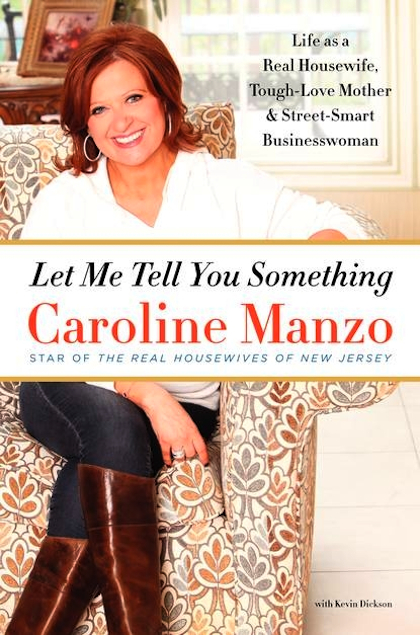 This past week, I had the pleasure of chatting with one of the stars of the hit series, "The Real Housewives of New Jersey", Caroline Manzo. Mrs. Manzo, who is a devoted mother to three, a loving wife, and the most-down-to-Earth member of the show, has recently penned a book in which she shares some of her wisdom on how to live a happy and fulfilling life. In Let Me Tell You Something: Life as a Real Housewife, Tough-Love Mother, and Street-Smart Businesswoman, Mrs. Manzo opens up about what it really takes to raise three kids, have a loving marriage, and be in the spotlight. In addition, the book includes some of Mrs. Manzo's favorite Italian recipes as well as shockingly honest confessions about body image and beauty.
As I chatted with Mrs. Manzo, I felt as though I were chatting with the wise Italian mother that I never had. I was struck by how humble and easy-going as well as how truly funny she is. During our interview, Mrs. Manzo and I chatted about her upcoming book, the different charities that she works with, and why you should always be true to yourself:
YH: Where did the inspiration for your book come from?
CM: It actually came from viewers. For the longest time, since Season One, viewers have been asking me questions. They're basically all the questions that you see in the book -- family, raising kids, and marriage -- it kind of came from that. The bulk of the book came from answering viewers questions and what I have gone through in my life.
YH: Were you nervous to give advice to readers and share stories about your own life?
CM: No, I wasn't, because if I've managed to still be standing after five years on reality television, then there was nothing that I could say or do that would shock anybody at this point, and there was no response at this point that could shock me, so I felt like, why not? [laughs]
YH: Tell us a bit about your writing process.
CM: I wrote the book with Kevin Dickson, who actually lives out in California. There was a lot of Skyping. I'm a night owl, so it would be Midnight my time, and 9pm his time, and both of us would be on our computers talking back and forth. He would send me questions, I would answer them, and then we would put it into paragraph form and chapter form... It's nice to write at night, because no one is bothering you. The phone's not ringing, the doorbell isn't ringing... it's quiet time. So, you get the most work done then. 
YH: Are there any bits of advice you would like to share with our readers? (Say, on raising kids, finding love, etc.?)
CM: I would say to any young kids, to anyone out there who is finding their way right now, is to remain true to yourself. It feels like everybody today wants to be the chameleon, they want to be the person that they think you want them to be, instead of being the person that you are. Be the person that you are. You get so much more done that way. You are what you are, and people know that about you. And when you are who you are, you get respect. So, I would say remain true to yourself and live your life the way you want to live, not just because people say so. Being you is pretty cool. It takes a lot of courage to be yourself.
YH: How do you feel that your life has changed since "The Real Housewives of New Jersey", and how do you keep such a level head?
CM: First of all, my life is completely different, or my professional life, I should say. My home life is very much the same. Right now, as you're talking to me, I have a load of laundry in the washer and dryer. Nothing crazy there. [laughs] My professional life has changed dramatically. Staying grounded is knowing that it's just a job. I can't buy into the hype, the good or the bad. People will say, "Well, how do you handle the negative?" And it's the same way that I handle the positive. It's just a moment in the now. And when we're not on everyone's television screens, I'll be forgotten about. You have to keep that in mind. This is just a temporary thing. It's an amazing experience, but it is temporary. The things that matter in my world, my family, my friends, my husband, my kids -- I stay very focused on making sure that remains true and is the focus of my life.
YH: Can you tell us a little bit about the different charities you are involved with?
CM: My best friend has an animal sanctuary -- she is a huge advocate for animal adoption, and it's because of her that I became involved withBest Friends Animal Society. She opened my eyes to the world of animal adoption, and I think it's crucial that people understand that there are so many pets out there who need good homes. She's a crusader for that and brought me into that. I'm also involved with the Wounded Warriors Project, which works with the men and women who fight for us to have the luxury of doing reality TV and stuff like that. They often come back broken and forgotten about, and I think that's a crime. So, I try to support them as much as I can. And through my nephew Nicholas, my eyes have been opened to bigger things, and I'm inspired to speak out because of him. I also work with CROC, which is a Cancer Survivors Group that is for people who have survived cancer, and asks themselves why they were the lucky ones, why were they the ones to survive cancer. They feel like God spared them but not the 5-year-old in the bed next to them. So, the group helps them to cope with issues like that.
YH: Since you are Italian, do you have any special recipes/cooking secrets to share?
CM: In my book, I do give my Sunday sauce recipe, and my meatball recipe -- there are Italian recipes in there! The thing about Italian cooking is that it is very easy and very simple. I think that people think that Italian cooking is really difficult when it's really not. There's this intimidation factor that really shouldn't be there. It's very easy, once you get the basics down, it's all very easy and fun!
(Image provided by BWR)
- Sarah Osman, YH Staff