ARTIST SPOTLIGHT: The Lylas
Written by Raffy Ermac. Published: March 22 2013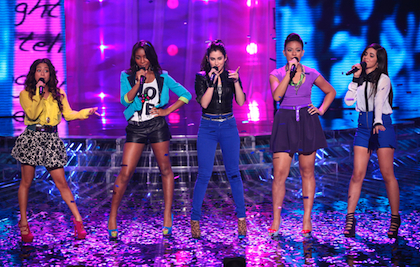 You guys remember when Fifth Harmony used to be called LYLAS but they had to change it? Here's why!
With a superstar brother as big and successful in the music industry asBruno Mars, you'd think it would be quite the challenge to carve out a niche for yourself in the same field, but with a great, new, up-and-coming talent like that of The Lylas, these sisters prove that Bruno isn't the only musically-talented member of the family.
Comprised of siblings Jaime Kailani, Presley,Tahiti, and Tiara, this new fierce foursome (whose group name stands for "love you like a sister") hail from the islands of Hawaii and are extremely determined to strike it big and make a name for themselves in the pop music world.
Their first single, simply entitled "Come Back", was just recently released, and if this song is any indication, then these girls have a promising future and a long career as pop stars.
More soulful, vocalized, and instrumental than most of the stuff that populates the pop charts, "Come Back" showcases the kind of passion and talent that The Lylas will surely put to use to be the next big thing in music.
From the islands of Hawaii to the streets of Hollywood, The Lylas's journey to make it big in pop will surely be an interesting one, which is why WEtv is currently developing a reality show chronicling the soulful sisters' rise to fame and their journey to record a debut album.
With a story as attention-grabbing and a singing talent as big as that of The Lylas, their debut album and subsequent reality show will surely be things to look out for with this quartet of promising and talented sisters.
For more about The Lylas and their music, check out their official Twitter page and YouTube channel!
(Photo via WENN)
- Raffy Ermac, YH Staff