Q&A: "Legends" Actress Winter Ave Zoli
Written by Stacy Rickard. Published: November 30 2015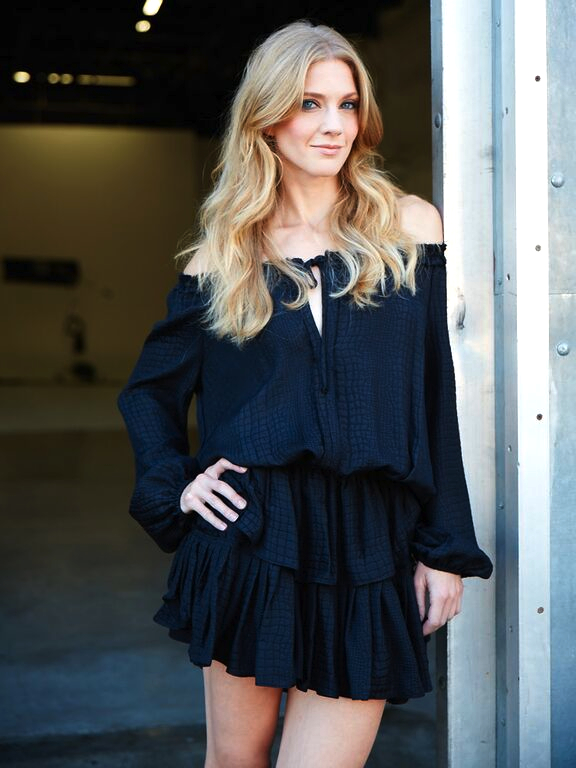 Winter Ave Zoli isn't new to your TV screen, but she's a fresh face on TNT's action-packed crime drama "Legends". The actress is best known for her role as Lyla, joining the cast of the hit show "Sons of Anarchy" in Season 2.
Growing up, Winter spent a great deal of time in Prague, where she attended middle school and high school. Luckily for her, the newest season of "Legends" filmed in Prague, giving the half-Czech actress a chance to see her family and get back to her roots while she works. We caught up with the blue-eyed beauty to chat about her new role as Detective Gabriella, her most memorable "Sons" moments, and what we can expect in Season 2 of "Legends".
YH: You got a big break playing Lyla on "Sons of Anarchy"; did you ever think that the show would become as big as it did?
WAZ: I had no idea. I knew it was something different and cool. I didn't think Lyla would be a big break for me, considering it was originally supposed to be a one-to-two day guest-starring role. "Sons" really became something special, not only to the rest of the world, but to myself as well. I was incredibly grateful to be a part of it. 

YH: What did you take away from "Sons of Anarchy"? Were there any memorable moments that will stick with you the rest of your acting career?
WAZ: Well, I certainly took with me some wonderful memories. There was rarely a dull moment on that set. There were two defining moments I will always remember -- Ryan Hurst's last day on set as Opie, and my final scene at the end of the series run. Both of those days were incredibly emotional. It's moments like those that you realize how attached you become to your co-workers and develop a love for the characters. Saying goodbye to Lyla and the whole run of the show was not easy.

YH: How does your character Lyla from "Sons of Anarchy" differ from your new role in Legends?
WAZ: Lyla was strong in some ways. She started out young and lost but had the strength that kept her fighting through life, striving against the odds to make something of her self. Gabriella Miskova, my character on "Legends", is tough in a different way. She's got her life together and she's smart as a whip. She's one of the guys, who does not take s**t from anyone.

YH: What made you the perfect choice to play Detective Gabriella?
WAZ: Well, it certainly didn't hurt that I am half-Czech and spent my adolescence there! Having an understanding of a culture and how people behave and think is very useful when playing a character from a particular region. Being Czech helped me bring a necessary angle of development to Gabi.

YH: How does it feel being able to film on location in an area that you are familiar with?
WAZ: Filming the series in Prague was a dream. Not only is it my second home, but it's just an amazing city to spend time in. It's magical. I loved that I was able to spend an extended period of time there, with my family. It's comforting, too. It can be daunting to pick up and move somewhere you're unfamiliar with, for work, especially when you don't speak the language! This made it super easy for me.

YH: What will fans of the show get to look forward to in Season 2 of "Legends"?
WAZ: Season 2 of "Legends" is going to keep unraveling and revealing compelling story lines as it progresses, which will keep the audience on their toes! For those who watched Season 1, expect to see a deeper journey into Martin Odum [Sean Bean], where the focus is on him and one of his Legends, Dmitry Petrovich. This season is darker and grittier, with lots of plot twists, lending to a very intriguing show!
Check out "Legends" Monday nights at 10pm on TNT!
- Stacy Rickard, YH Contributing Writer