Q&A: Jewelry Guru Elizabeth Rosselle
Written by Sarah Osman. Published: October 31 2012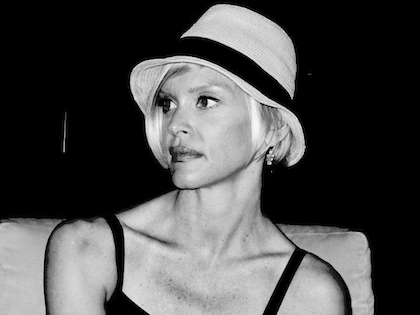 Elizabeth Rosselle is a Los Angeles-based jewelry designer whose latest collection was created by Ms. Rosselle and a group of talented Bali artists. Each piece is blessed by a Bali priest and by Rosselle herself, and for each piece sold, a percentage will be sent to help support the Yakeba Foundation, which is a Bali-based organization that provides outreach to drug addicts, sex workers, members of the transgendered community, and individuals who have HIV/AIDS.
Rosselle chatted with us about her inspirations, life in Bali, and who helped inspire her unique designs for men:
YH: How has living in Bali influenced your designs?
ER: I went to Bali for the first time after I graduated from college. It was almost as though I closed my eyes and pointed on a map and picked a random spot. I had heard of it, but I didn't know that much about it. For some reason, I wanted to go there, so I bought a ticket and that was my graduation present to myself! I had planned to go for a month and I ended up staying two months. I fell in love with the people, the culture... I cried on the plane when I came back. I just didn't want to leave, it just felt like home.
One of my favorite things about Bali is how appreciative and grateful they are for everything that they have. You would see busted up motorbikes and televisions and you would still see offerings to the gods as a thank you for it. It's so neat how simple and spiritual they are. They leave offerings in the morning and in the afternoons; they have a lot of ceremonies. It's also a tropical island -- there are so many fresh fruits, flowers, and colors! But the people are the main thing that I love about it.
A lot of pieces have authentic Balinese coins in them that are used in ceremonies as gifts to the gods. There are a lot of symbols of spirituality throughout my line, and some of my pieces incorporate many faiths. I met so many different people from all over the world in Bali, and they celebrate all sorts of faiths. Some of the pieces have skulls, and that's to represent celebrating the life of the person, and their passing on to the spirit world. I also incorporated the "Bali Bad Boy" aesthetic into my pieces, and, of course, no one is really that bad [laughs], but they like to incorporate big skulls into their pieces/clothing.
YH: Were you actually taught by the local artisans in Bali how to craft jewelry?
ER: I did, actually. I sat with the silversmiths and watched them make things, and I had a local artist teach me how to make my own molds. You take a cube of wax, heat up your tool, and then you can carve whatever you like out of it! (I mostly carve skulls out of mine.) And that goes into a cast, and your mold is made out of that. So, a local jewelry designer, who was actually from Japan but is living in Bali, gave me a lot of carving lessons. When I first started designing, it was all based on drawings, but now I have learned how to take my own prototypes and bring them to life.
YH: How long have you lived in Bali? How many times have you been there?
ER: I've spent a little over a year in my life in Bali, over the course of four different trips. I wouldn't mind moving there one day. But I am interested in doing collections in other parts of Southeast Asia.
YH: Many of your proceeds go to help support the Yakeba Foundation. Can you tell me a little bit more about that?
ER: It's a foundation in Bali that provides outreach to drug addicts, sex workers, and people living with AIDS. I have a really close connection to the cause, and I work with them really closely. The outreach workers also happen to be clients. They are not all necessarily living with AIDS -- many of them are drug addicts who are in recovery. It was started by a recovering alcoholic, who was actually a Westerner who has passed on. It is now being solely run by Indonesians, and they have been so busy helping people that their Website is even a little behind. It took me a long time to find them, because I wanted to find a cause that I really connected with. They are incredible to work with.
After the clients are in recovery, they go out to perform outreach services. It's a bit like a twelfth step for them.
YH: When did you first become interested in designing jewelry?
ER: During my first trip to Bali, I decided that I wanted to start some sort of creative business. I wasn't sure if it was going to be clothing or jewelry, but I knew that I wanted to do that. I didn't actually study design in college, I studied philosophy -- which may be why there are eastern philosophies in my work. I met some incredible designers, and saw so many amazing designs, and I have always considered myself an artist. On my second trip, I began my collection. And the first collection looked very different than the current one. There were lots of colorful beads and glass in them. I brought back this box of jewelry with me, and I tried to get it into some boutiques, but I just struck out. So, I gave up on the pieces for a while and hid them. I forgot that I even had them until about two years ago; I pulled them out and decided to sell them at a garage sale. The pieces were then discovered at that garage sale, and they wound up at one of the best boutiques in L.A., Fred Segal, the next day! The pieces started to get all this press, and the collection just took off from there! It's so funny to me that they got discovered at a yard sale!
YH: How has being a "California girl" helped to affect the designs of your jewelry?
ER: My current collection has a very rock 'n' roll vibe. It's definitely got a California rocker chick influence, which I fused with the spiritual vibe, and here we are! I think it's a really neat blend of both.
I'm from Northern California originally, and I think that my family has definitely influenced my line. They all live in Northern California. My mom actually studied to be a spiritual guide, and she still dabbles in it, so I think that she helped influence my pieces. She helped to inspired the multi-faith lines.
YH: Is there any reason as to why your designs are uni-sex?
ER: This isn't the reason why, but this is one of the reasons that helped inspire a uni-collection -- Jeremy Piven brought a few pieces from me for his mom and his sister, and he asked me if I ever did any pieces for men and wanted a piece that was based on the rosary but was multi-faith, so that people of any faith could wear it. I sent him one of the first prototypes from Bali, and he loved it. I realized that I'm not into super feminine jewelry, and I would like men to be able to wear my stuff, so I decided to create some jewelry for men. A lot of the pieces that are out there for men are kind of cheesy and similar in design, so I wanted to create some truly unique pieces for them. I'm glad that guys like my stuff. They're fun customers!
YH: Where can we find your designs?
ER: The Lemon Tree Bungalow in West Hollywood, and LA Style House in Downtown LA (it's in the Fashion District). And my Website, as well! In fact, here is a 40% off coupon for all of your lovely readers! (user name: FallSaleShopper; password: RD2012Sale)
YH: Who are some of your favorite artists and designers?
ER: I loveAlexander McQueen. I'm just drawn to his rocker, edgy design. His designs are so loud! I also like how much of a rebel he is, and I like to pretend that my line is rebellious too. I love them! Annabeck Designs are really pretty; she is a designer in Bali and she makes really feminine, pretty pieces.Ewelina KoszyKowska is a visionary. She creates timeless, deep paintings that I just love. I really likeDiane Von Furstenberg. I also really likeNicole Richie's jewelry line too, I think that she has a really good eye. I also like checking out the new, independent designers on Etsy and Tumblr.
YH: What can we look forward to seeing from you next?
I want to expand my brand into more home décor as well as clothing. I would like to start working in other parts of Southeast Asia, including Thailand, Vietnam, and Cambodia. I would love to work with an indigenous tribe and really learn their craft. I wanted to do a real, authentic, tribal-inspired line. A lot of tribes are in danger of losing their lands, so I would really like to focus on that and support an indigenous group. I would love to create original couture pieces inspired by the tribe. I like everything to have a story, I want wherever I am producing, whether it be Thailand or Bali, to be celebrated. I like to know the culture and the people that I am working with. All of my pieces are blessed by a Bali priest, and by myself. I feel that I really learn from my team, and I like to think that they learn a lot from me too.
Thank you for taking the time to chat with us, Elizabeth!
(Photos courtesy Michael Lawrence)
- Sarah Osman, YH Staff