Q&A: Gregg Sulkin
Written by Caroline Thayer. Published: July 03 2015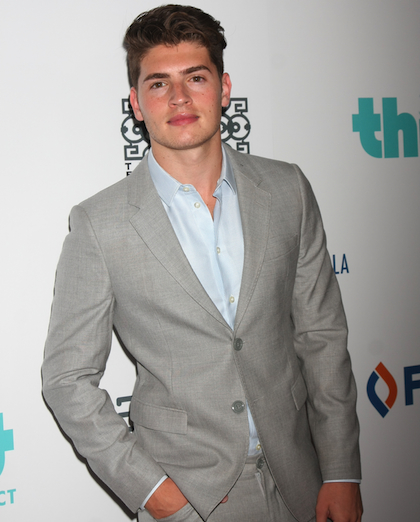 You may know him best as the heartthrob Brit who plays Liam Booker on MTV's"Faking It", but this Summer, Gregg Sulkin is taking his talents to the big screen… as a frog!
No, not literally, of course! You can hear Gregg voicing the character of Inspector Noggin in the new animated film, Frog Kingdom, which also stars Cameron Dallas,Drake Bell, andBella Thorne! The movie centers around an Olympics-like competition, the Froglympics, where male frogs compete in hopes to be married off to the kingdom's most eligible bachelorette, Princess Froglegs (Thorne). Princess Froglegs, determined to not marry a random male frog, takes matters into her own hands and goes undercover in the games. 
This Summer hit is bound to make you laugh and wish that you lived in the Frog Kingdom alongside this rock star cast.  
We caught up with Gregg to chat about what it was like to do an animated film, what projects he has planned for the future, and he even shared a message with us for his fans! Check it out below!
YH:Frog Kingdom is an animated film. How do you prepare for a role that requires your voice but not your physical presence? 

GS: You have to just make sure you're completely emotionally connected to the character, as you don't have facial expressions to portray them. Plus, you have to drink a lot of water! 
YH: Tell us a little bit about the recording process for this film and how you were able to convey believable emotion in your character; as is often with animated films, you are in a recording studio reciting your lines without any co-stars.
GS: Acting without your co-star is a little more difficult, as most of acting is just reacting. However, my job as a professional actor is to use my imagination… so hopefully I'm good at that by now!
YH: The story follows a kingdom of frogs competing in an Olympics-style tournament for the imminent marriage of Princess Froglegs. If you were to compete in one real life Olympic event, what would you choose?
GS: Football! It's my favourite sport and I would hopefully lead England to victory for once!
YH: You are originally from England. How did you perfect your American accent?

GS: Lots of imitating my American friends and immersing myself around the accent as much as possible.
YH: You have been in the United States for quite a while, but what would you say are the most prominent differences between these two countries? Which country feels like home for you?

GS: London always feels like home, but I feel like I get to evolve as a person better in the States. Everyone is positive, optimistic, and creative, and I prefer to surround [myself] with that type of energy.
YH: You have guest-starred on many television shows, including "Pretty Little Liars" and "Wizards of Waverly Place". If you were to have a guest appearance on any current show, what would it be?

GS: "Brooklyn Nine-Nine" -- Love that! Or "The Blacklist" withJames Spader.
YH: You have your own hit show on MTV, "Faking It", which focuses on the challenges young adults face in school. In what ways can you relate to your character, Liam Booker?

GS: I don't relate to his artistic side or his family background at all. That's been fun for me to play a kid with a dysfunctional family. I do relate to his honesty policy, though. In life, it's much easier to be straightforward, upfront, and honest. 
YH: We can't wait to see your new film, but is there anything you want to share with your fans about projects you have planned for the future?

GS: I just had a movie in the U.K. in theaters which had a great run calledAnti-Social, and a new horror flick coming later this year "Don't Hang Up -- I'm VERY excited to see how that one is responded to by audiences. Plus, I'll be working on the 3rd season of "Faking It" soon!
YH: So what about that message for the fans?
GS: Thank you to my fans who continue to support me. They've been unreal for years and continue to humble me. Cheers.
Frog Kingdom is now available on DVD and digitally, and the second season of Gregg's show, "Faking It", premieres on MTV on August 31, so mark your calendars!
If you want to see more from Gregg, also make sure to follow him on Twitter and Instagram!
(Photo via Nicky Nelson/WENN)
- Caroline Thayer, YH Staff