Q&A: 'Elysium' Baddie Josh Blacker
Written by Sarah Osman. Published: August 08 2013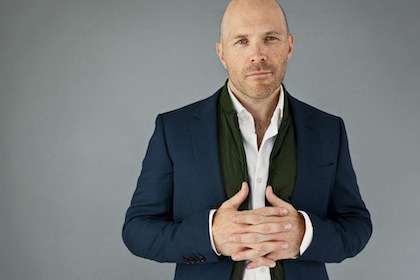 Josh Blacker is a part of the incredible cast of the new filmElysium. Set in the year 2154, the world has been divided into two extreme classes: the very poor and the very wealthy. The very wealthy live on a beautiful space station called Elysium, while the destitute stay behind on an Earth in ruins. In the film, Mr. Blacker plays Crowe, a South African mercenary hired to protect Elysium. His intimidating character poses a bit of a threat to the film's protagonist, played by Matt Damon -- who is desperate to get to Elysium. The film was written and directed byNeill Blomkamp, the same mind behind 2009's poignant sci-fi cult film, District 9.
The role was an interesting experience for Mr. Blacker, who is actually from South Africa. He spent a great deal of time researching his role and those of actual mercenaries throughout South Africa's history. He underwent quite a physical transformation to become Crowe, as he put on 20 pounds of muscle to achieve the character's intimidating look. However, in real life, Mr. Blacker is anything but intimidating -- he's playful, friendly, and has a rather self-deprecating sense of humor. During our chat, we discussed the social issues Elysium touches upon, work-out tips, and Mr. Blacker's next role (in a comedy!) as a frustrated office worker who has 24 hours to save his job.
YH: Tell us a bit about the film Elysium.
JB: It's a sci-fi action film set in the year 2154, where the world has become over-populated and is filthy. The ultra-rich live in this man-made space station in the sky called Elysium. And the lead character [Matt Damon] wants to get to Elysium. However, not everyone can go to Elysium. I play a mercenary by the name of Crowe who is hired byJodie Foster to protect and defend Elysium from various people who want to get up there. It's a nice set-up. He wants to get up there, we don't want him up there, so there is a lot of action involved in that.
YH: In the film, you do play Crowe, a South African mercenary. Since you are from South Africa, did you bring any of your own background into the role?
JB: I left South Africa when I was 16. I live in Canada now. It was really important for me to understand what growing up in South Africa was like, and what it was like to be a solider in South Africa. They're professionals. I did a lot of research on South African soldiers and the South African army. I took that, together with my understanding of what South African mentality was like in that environment, and what South African guys are like. There is a distinct type of personality to a lot of South African guys. There is a certain type of culture surrounding South African guys, which I tried to take and put in the role.
YH: What was it like working with such a great cast and director?
JB: It was amazing. First of all, working with Neill was incredible. He's so gifted. He's such a great director with such a unique vision. I think people are excited to see what he will do beyond District 9, and I don't think they will be disappointed. He did a really wonderful job. He's very collaborative, and he allows for a lot of improvisation within each scene. It was fantastic working with the cast as well, including Jodie Foster and Matt Damon. I grew up watching their work, so to be able to work alongside them was terrific. We had a very international cast as well. There was such an amazing dynamic on set. Everyone was so grounded and focused on making the best possible film. The set was very relaxed and very well run.
YH: How do you feel the film reflects some of the social issues of South Africa, currently and historically?
JB: I think the film reflects a lot of issues that we face globally. I think a lot of the issues are experienced not only in South Africa but around the world. Some of the issues such as poverty, healthcare, immigration, these are things that we deal with globally. I think we can recognize all of these issues. I'm not sure if any of the issues are specific to only South Africa. In sci-fi, you are able to create a world that's not real but is allegorical. So the issues are reflective of today. Because sci-fi is a genre, you don't have to operate in the rules of reality, but you can use it as a great metaphor.
YH: You had to really hit the gym for this role! Got any helpful workout tips for us?
JB: [laughs] Yeah, actually. I ended up putting on about 20 pounds of muscle for this role. Neill wanted us to be physically and mentally intimidating. We were playing professional soldiers and killers. I wanted to make sure when I showed up, I would be intimidating. I did a lot of Olympic-style heavy weight lifting. My brother is a professional trainer, and he got me in the gym and put a program together for me. I did a lot of heavy lifting. I'm also a vegan, so I was eating well at the same time. About three weeks prior to shooting, Neill asked me to lean down a bit more. So, I just started doing some heavy intense cardio and cut back a little on the heavy weight lifting, and of course beer was out of the question.
YH: How do you feel Elysium differs from District 9?
JB: The story is completely different. The size and scope of Elysium is much larger. There was a much larger budget to work with this time around, and people are expecting a lot more. I think that people will be really surprised by the sheer scope of Elysium. I think the one thing they won't be surprised by is the vision. Neill has such a clear vision for how he wants his films to look and the world he creates. Just as there was such a unique world inDistrict 9, you will get to see two unique worlds inElysium. There is the space station, as well as this overpopulated dystopian world. I think people will recognize the Blomkamp style, it's just on a much larger and grander scale.
YH: You are finally going to get to star in a comedy, that you also helped write and produce! Can you tell us a bit about that project?
JB: It's a feature film called Focus, which I co-produced and wrote with my amazing partner Christopher Young. It's basically Office Space meets Trading Places. It's really funny. It's the story of a guy who has one day to save his job, defeat his enemies, and not get dumped by his girlfriend. There's a lot of roadblocks put in his way. For anybody who's ever had a day job where you get to meet and work with some really interesting people, this story will resonate with them. How do you deal with different personalities in these jobs, and how do you navigate those relationships? It's basically 24 hours in the day of the life of this guy who has to save his job, and it's pretty funny. I think people will like it. And I love doing comedy. It's a nice change of pace. I play the lead character who gets to go on the adventure. I get to show off my comedic chaps. We're in the process of shopping it around right now and looking for the proper distributor for it. We'll be doing the fall festival circuit and will hopefully be in theaters in the next year. 
Follow Josh on Twitter, and be sure to check out Elysium in theatres tomorrow!
(Image via Natalia Anja Photography)
- Sarah Osman, YH Staff