Q&A: "24" Actor Giles Matthey
Written by Sarah Osman. Published: June 09 2014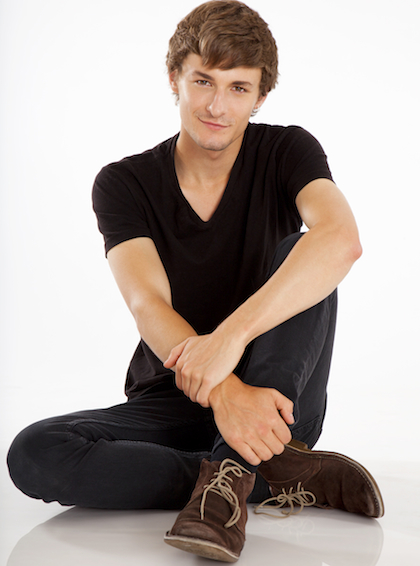 ActorGiles Matthey currently stars as Jordan Reed on the reboot of the hit show "24" entitled "24: Live Another Day". Reed is a CIA technical genius who proves quite helpful to our hero, Jack Bauer (Kiefer Sutherland). Over the years, Matthey has taken on some rather unique roles. He starred as the protective faerie Claude Crane on "True Blood", and he most recently played a demented southern pimp in the filmBoulevard. He's acted alongside some of Hollywood's finest, including Robin Williams and Kiefer Sutherland. It appears that this is just the beginning of his long and lucrative career.
Matthey is a charming British lad who is great fun to chat with. He has a natural ease about himself and will often laugh at his own jokes (which I frequently do, so we got along quite well). During our chat, Matthey told me what it's like to film an episode of "24", how he got into character for Boulevard, and whom he thinks will win the World Cup!
YH: Can you tell us a bit about what it's like to play Jordan Reed on "24: Live Another Day"?
GM: In the beginning, when I first got the role, it was a little bit daunting, because the show has such a big fan base and is so well known. But as I got into it, everyone made me feel very safe and comfortable. It turned into a real pleasure. It was an honor being on the show. It's been like a daunting honor that I have very much enjoyed.
YH: Is filming "24: Live Another Day" quite tiring?
GM: I think it is, because the way that the show comes across is on the edge of your seat and nail-biting, and to an extent, it's kind of like that filming it. There is no time to waste. You've got to be on-point, especially with a character like mine. He knows everything in the world and has to be on-point as well, so there was no time for rest. You go straight into it, and it was very high stakes from the start. It was exhausting, but the adrenaline is running through your veins, so you don't really feel it until the end of the day.
YH: You were also on "True Blood" as a faerie, which is a rather unusual role. How did you get into character as a faerie?
GM: I rang up Tinkerbell for a quick interview, and she was very lovely. She was quite helpful. [chuckles] No, I actually found that concentrating on really strange things for actors really helps. I imagined my character as being very delicate. I imagined him as - -and you will laugh at this -- a very delicate glass swan, like those very beautiful glass-blown objects. But he can also be quite vicious as well. He was very, very protective over Sookie. There were a couple of things about him, but what sticks out in my head most of all is that you try to make it as real as possible to yourself, because people need to be able to relate to you, whether you are a vampire or a faerie. We need to have the same sort of characteristics so that people can relate to you, and that's why I think "True Blood" is such a popular show. I wanted him to be a light, delicate guy who's very protective and vicious if pushed. He's a bit like an older brother. And they don't always have to be the biggest guys to be the most protective!
YH: Congratulations on the recent success of the filmBoulevard. How was it going from playing a rather delicate faerie to an evil, southern pimp?
GM: That was the biggest character role. You had to be open to changing for that role. You get certain roles that are very character-driven, and this was one of them. I did a lot of work with his voice in the beginning, and when I found his voice, I then went to a lot of ghetto hip-hop clubs. I wanted to find how Eddie would move and how he would walk. I also just used my imagination and played with it a lot. The director, Dito Montiel, had so much faith in his actors, he just told us that he knew what we could do and to just get from Point A to Point B and play around with it. That's really interesting for an actor to have a director who lets you play. It was really an honor to get to work with Robin Williams at such an early stage in my career.
In terms of his voice, I would practice his voice in my car. I would think about whether or not it would be a high-pitched voice or a low voice, or would it be an effeminate voice? I tried all types, and I watched Paris is Burning, which is a documentary about the underground gay culture in the 1980s, which I found very helpful.
YH: You've worked with some truly amazing actors, including Kiefer Sutherland and Robin Williams. How has it been working with these different actors?
GM: I'm so blessed and fortunate to have these opportunities. I think what is the most striking thing is what I've learned from these actors. I really learned so much, with the way that they carried themselves, and from what works and what doesn't work on film. I would be in the scene, but I was also trying to learn as much in the scene, which is not necessarily the best thing to do as an actor, but I learned a lot. I learned a lot from Benjamin Brattas well. These guys are very giving. They are also very serious, but as long as you take it seriously, they are very giving as actors. You can try things and discover things together, as opposed to being told what to do, which I found really refreshing. They were very open to trying new things, despite being such well-known actors. That was really lovely.
YH: Jordan Reed is actually your second role who is a bit of a tech geek. You also played Jonathan Ives in Jobs. Are you a bit of a tech geek in real life?
GM: I love the Internet. You won't find a young guy who doesn't love the Internet. But I'm not so much of a tech geek. I'm about as good as... iPhones. iPhones I can do. I'm not that great with technology, to be honest. I can do very basic technology.
YH: You are a bit of a football (soccer) fan. Any thoughts on who will win the World Cup?
GM: I am a massive football fan. My dad died when I was 10 years old, and I got the honor of putting his ashes underneath Chelsea's football pitch. I love Chelsea very much. I'm very excited about the World Cup. My money is on either Brazil or Spain, and I am most excited about watching Belgium play. They've got a very young team, and they're very technically gifted. I'm excited to see what they do. Unfortunately, I don't see England getting very far. It's a shame, but it's better to be realistic than to be hopelessly deluded as well.
YH: What can we from you next, in terms of "24" and your future roles?
GM: In terms of "24", I have to be careful with what I say. Jordan Reed develops a lot in the next few episodes. He gets a lot of responsibilities which he never had before, which is exciting. It all comes together for him. It's going to be interesting. You do see a progression with him and Kate (Yvonne Strahovski); to what extent or what happens, I can't really say. It's going to get very interesting in the next few episodes. With regards to my own career, I'm in a very fortunate place where I've been on a certain amount of shows where I can wait for the next project now (maybe an indie film). I want a project where I can connect with. A film which is filled with quality from the actors to the script to the directors. I want it to be character-driven. I want to play a character, not just a role. I want to stretch my legs creatively.
"24: Live Another Day" airs Monday nights on Fox. Keep in touch with Giles onTwitter!
(Photo via The Garage PR)
- Sarah Osman, YH Staff