PLAYLIST PICKS: Sir Cadian Rhythm
Written by Kate Ferguson. Published: February 10 2015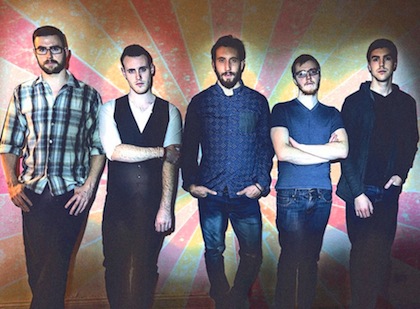 When it's instilled in your body, it's instilled in your body. For Long Island-based alternative/rock/jazz/pop quintet group Sir Cadian Rhythm, their love of music is so deep that they named themselves over the body's natural circadian rhythm. Similarly to how challenging it is for us to avoid sleep when the body says it's time, this band feels that way about the musical rhythm.
This unique group of musicians are also the multi-talented type of creative. Of the five members, some are musical theater performers, Juilliard graduates, music teachers, award-winning jazz band performers, and poets.
Jack Weppler (vocals), Alex Laudani (guitar),Richie Cluxton (bass), Keith Miller (drums), and Matt Carlin(keyboards) have been playing together since March of 2014. They all have different types of musical histories, which, when blended together, creates a new sum but also holds the different elements of all their original parts.
The band writes their own music, and they started working on their first EP in the fall of 2014 for a February 7, 2015, release. The EP is self-titled and showcases the band's ability to cross between different genres seamlessly. You can definitely tell that they have been influenced by a variety of music types over the years, and that they are comfortable expressing their message through a variety of different formats. The message that their music is putting across is one of overcoming failures and hardships, which, of course, even the best of us can relate to.
"Flood of XIV" has a throwback alternative vibe, while "Holly's On Fire" taps into some swingy jazz. "Ouroboros" is the most rock of songs on the EP, while "Villian Fear" might be the most genre-crossing of the bunch, feauturing a very approachable sing-along chorus.
"It all makes sense now, babe / In perfect time you came and went / You fled the scene so fast / We didn't stand a fighting chance..."
They also do awesome covers that show off their ability to transition into the general pop arena, as demonstrated in their mash-up cover of "Stay With Me/Won't Back Down". It's completely pared down to a single singer and electric guitar player, with the video featuring them basically just sitting there playing. But what they're creating while they're sitting there is definitely worthy of being shared. 
Keep up with Sir Cadian Rhythm via Soundcloud, Bandcamp, Facebook, Twitter, and their Official Website.
(Photo via James Moore)
Kate Ferguson is a Los Angeles local and freelance writer for a variety of blog genres. Look for article links (and the occasional joke) on her Twitter @KateFerg or check out her personal blog ThatsRandomKate.blogspot.com