P!nk Debuts New Theme Song for "The Ellen Show"!
Written by Caroline Thayer. Published: September 10 2015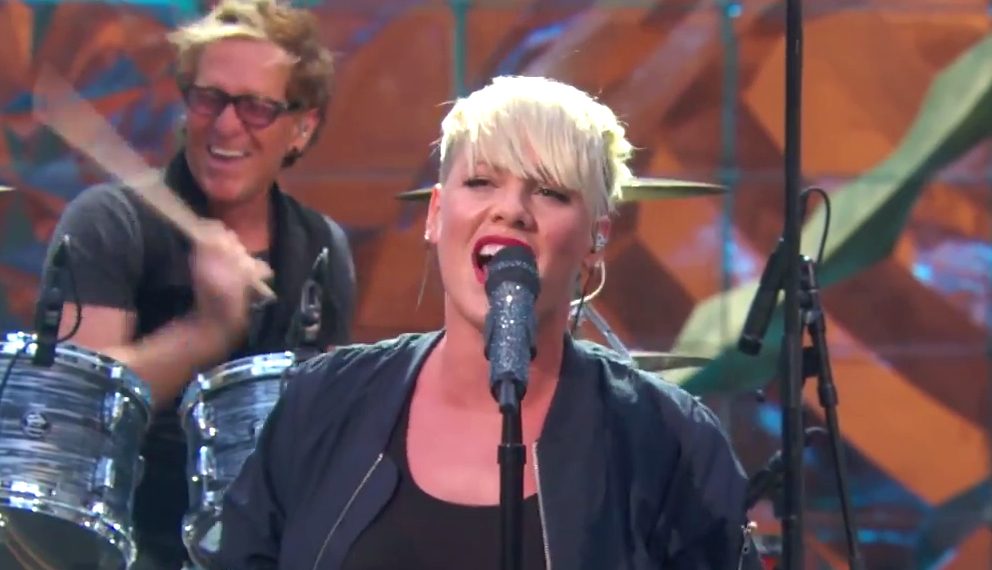 While I rarely have time to relax by my television and watch "The Ellen Show" from start to finish, I religiously watch YouTube clips of the program, ranging from live performances and silly games to provocative interviews and emotional stories. 
Ellen Degeneres's show always gives me the feels and definitely makes my list of favorite talk shows to ever be produced. 
As if Ellen couldn't get any more innovative, she recently shared with her diverse audience that, after 12 seasons, the launch of Season 13 would be celebrated with a theme song. You know you're legit when your television show has its own theme song! Go big or go home, right? So it's only natural that Ellen enlisted in her friendP!nk to record a fun song to serve as the anthem for the upcoming year!
P!nk always gives thoughtful performances and interviews whenever she goes on Ellen's show, so her being selected to sing the theme song comes as no surprise. The song, titled "Today's The Day", is appropriately upbeat with an electric guitar intro that catches your attention and is integrated throughout the entire song. P!nk hasn't released new music in a year, and she didn't disappoint with this jam. While the song was intended for television, I believe it will easily transition to radio where it will make its way up the Hot 100 chart!
What really makes a great artist is if they are able to write profound lyrics that are catchy and also provide a deeper meaning. P!nk definitely did this with her new song. My favorite verse:
"I used to want to grow up
I thought that I could be free
But now I'm realizin'
It's cool it ain't for me
It's cool cause all my dreams are more than possibilities
I get so vicious
When I don't feel delicious
I just need a friend
So much to carry
These days are kinda scary
I don't want the fun to end."
Okay, so let's dissect what she just said...
First, P!nk says she wanted to grow up because she thought she would acquire independence and be free at an older age, but she soon realized that she isn't about that life and she can actually reach her dreams with just believing in who she is as a person in present time. She then proceeds to say she gets pretty vicious when she isn't feeling delicious (which basically translates into: when she isn't feeling herself or the vibes around her, she is not a happy camper... we can relate, right?). P!nk brings things back full circle, though, as she says at the end of the verse that she just needs a friend by her side (maybe alluding to Ellen) to help her carry out her dreams, because doing it alone can be scary, and she doesn't want the fun she is having to disappear before she can make those dreams her reality!
It's obvious I chose this verse because it fits my criteria for what makes good lyrics!
The season premiere of Ellen's show was on earlier today, and many high-profile guests stopped by to make sure it was the best yet. P!nk performed the theme song on the episode, so make sure to watch it below in case you missed it!
I must say one more thing about this Grammy-award winning artist… P!nk's "Get The Party Started" may be a throwback, but she is certainly embracing the title of her past hit by "getting the party started" with an electric new theme song for "The Ellen Show"!
(Screenshot via YouTube)
- Caroline Thayer, YH Contributing Writer