ARTIST TO WATCH: Lolove
Written by Stacy Rickard. Published: September 10 2015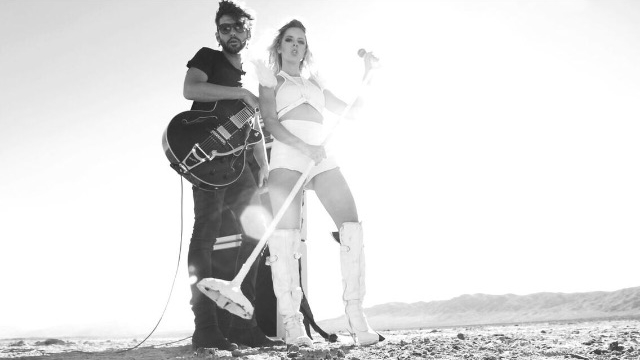 Listen up, music aficiandados, because you are going to loveLolove, a Los Angeles-based band with a unique electric sound mixed with alternative rock guitar and a strong female vocal. The band released their first single, "Transport", back in 2012, and the track definitely transports you to a place where drums and synthesizers mesh perfectly with the vocals of lead singer Shea Carter! The following year, the band dropped their debut album, Lolove.
After not releasing music in 2014, the band is back in 2015 with a banger! Their newest release, "Stranger", is edgier, with heavier drums and electric guitar wails from guitarist Robert Davis, and the music video to accompany the track was directed byMichael Sanchez. Still featuring their original electro-alternative roots, "Stranger" shows that Lolove is absolutely no stranger to standing out in the alternative rock world.
We asked the band a few questions to find out why they became musicians and what's next for them!
YH: Electro-pop is a unique genre of music. What attracted you into adapting this sort of music style?
LL: I really wouldn't consider Lolove an electro-pop band, but in all fairness, it's really difficult to categorize what our music is. I like to think we are an alternative rock band, taking advantage of current instrumentation. We don't hide from synthesizers; we turn them up.
YH: Shea, you have a hauntingly good tone to your voice. Do you ever get compared to anyone?
SC: I definitely think my voice is unique, but that being said, I'm very inspired by other female vocalists. I love Amy Winehouse, Nina Simone, andStevie Nicks, to name a few. I've spent so many hours singing along to their music, I'm sure you'll hear some essence of them when I sing.
YH: How does your new single "Stranger" compare to the songs from your last album?
LL: With the new music, we really found a sound that's more authentic to who we are. To quote Miles Davis, "It takes a long time to sound like yourself."  I think we're tapping into something deeper, and I hope we continue to grow this way. The new music definitely has more balls.
YH: Congrats on the new music video! Michael Sanchez did a great job directing. What was your favorite part of filming?
SC: The most fun I had shooting the "Stranger" video were the black light moments we used during the bridge. It was something we tried at the end of the day with some old Halloween makeup and a backlight. We had no idea how it would end up looking, and we were all so excited with how creepy it turned out. It's freeing to not look like yourself. It made me less inhibited. I want to do an entire show with face paint now.
YH: What can we expect to see next from Lolove?
LL: We have a new single and video coming out called "Time Machine" that we're really excited about. The song is about how music becomes a time machine that outlives us. Isn't that the goal? It's this eternal stamp we might get to leave on this planet after we leave it. It's one of the most appealing aspects of making and writing music.
Keep up with all things Lolove on Twitter, Facebook, Bandcamp, and their Official Website!
- Stacy Rickard, YH Contributing Writer