Our Top 5 Graduation Songs of All Time!
06-14-2022 by Tiara Brownie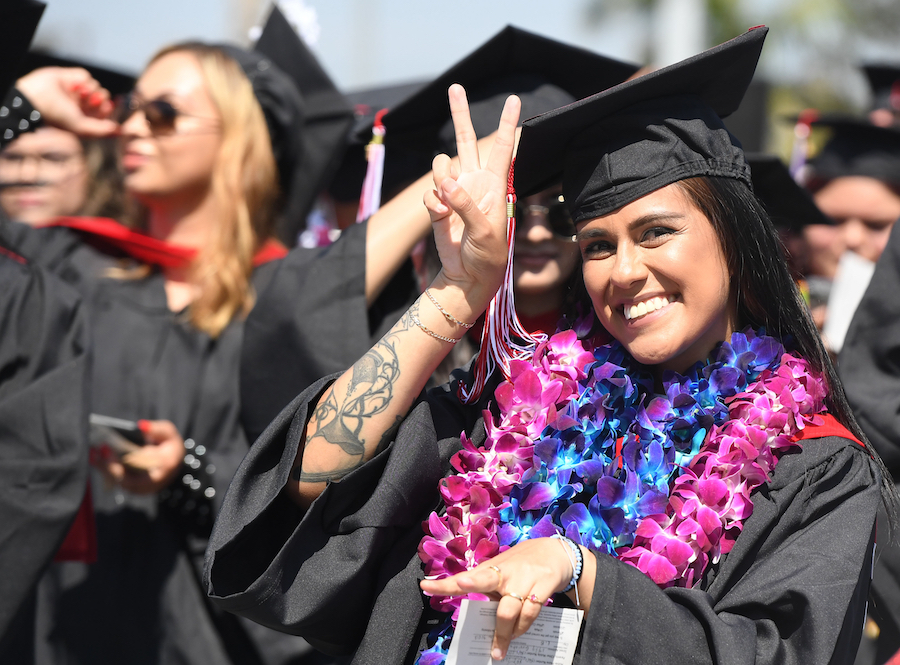 ( © Brittany Murray/MediaNews Group/Long Beach Press-Telegram via Getty Images)  
Graduation season is officially here! We want to take a moment to extend our congratulations to all the students moving on to this next exciting stage of their lives. Whether you're graduating from high school or college, your graduation ceremony will become an important milestone in your life, representing transition and growth.
The day you graduate is the culmination of all the time, energy, and work you have put into obtaining your degree, a moment you'll remember for years to come. You can put down your pen after finishing your last exam or hand in your final assignment, but you won't feel the same accomplishment as walking across the stage as a graduate. This once-in-a-lifetime opportunity allows you to put on your cap and gown, participate in a ceremony honoring the magnitude of your accomplishment, and do so while being supported by your friends, family, and fellow students.
It's possible that hearing this will be a bittersweet moment for you. You'll probably feel a little down, but after graduation, most people move on to new things, whether it's a new job, starting a family, or a business. Friends will tell you that they will keep in touch; for some, this is true, but for most, it isn't. Life has a way of getting into that, and you won't be seeing them as frequently as you would like you did in class. This is a time to celebrate with the people who have been on this journey with you while you can, reminisce about all the incredible memories you have made together, and a moment to wish each other the best of luck for the future.
With that being said, let's kick off our countdown to the Top 5 Graduation songs!
1. "Graduation (Friends Forever)" by Vitamin C
This nostalgic song has remained very popular amongst high school students who find themselves worrying about their future friendships and relationships after they have graduated. The song has a very optimistic tone; its message is that true friendship can withstand even the most trying circumstances. "As we go on, we remember / All the times we had together / And as our lives change, come whatever / We will still be friends forever..."
What is Vitamin C the singer doing now? The former 49-year-old pop singer known as Vitamin C, who now goes by her real name, Colleen Fitzpatrick, is employed by Netflix and Nickelodeon as a music executive. For instance, she collaborated on songs that other well-known artists recorded, and one of her songs became popular after being featured in the television show "Hannah Montana". In addition to that, she penned the song that Demi Lovato and Selena Gomez performed as a duet for for the DCOM Princess Protection Program. 23 years later, the famous "Graduation (Friends Forever)" song still impacts individuals as TikTok influencers take a walk down Memory Lane and reminisce about their high school years.
2. "I Can" by Nas
In this uplifting song, Nas advises young people to avoid using illegal drugs and work toward accomplishing their greatest ambitions. This empowering message can help any graduate become more confident in themselves. "I know I can / Be what I wanna be If / I work hard at it / I'll be where I wanna be..."
What is Nas the rapper doing now? In addition to running his record label, Nas, AKA Nasir Jones, is also an entrepreneur. He is the associate publisher of the magazine Mass Appeal and the co-founder of the record company Mass Appeal Records. In May, he congratulated his cousin, "Black-ish" actress Yara Shahidi, for graduating from Harvard University via Instagram.
3. "Forever Young" by Jay-Z ft. Mr. Hudson
"Forever Young" is about taking time to live in the moment. During graduation season, you'll be busy planning for what's next, but don't forget to take in everything you've already accomplished. Enjoy the memories as you make them, because time really does fly by. "Forever young is in your mind / Leave a mark they can't erase, neither space nor time / So when the director yells cut, I'll be fine / I'm forever young..."
What are Jay-Z and Mr. Hudson doing now? It has been over 5 years since the release of his most recent studio album, 4:44, in 2017, and it would appear that Jay-Z is currently in the process of preparing the follow-up to that album. There have been rumors that the rapper and business entrepreneur has been in the studio with his longtime partner Swizz Beatz.
As for Mr. Hudson, he still enjoys working as a singer, record producer, and songwriter.
4. "Moment 4 Life" by Nicki Minaj ft. Drake
It is the perfect song to listen to if you want to enjoy the "here and now" and savor the memories you have from your high school years. Walking across the stage and accepting your diploma is a moment and feeling you never want to forget; a moment you wish you could replay for life. "I wish that I could have this moment for life, for life, for life / 'Cause in this moment I just feel so alive, alive, alive..."
What are Nicki Minaj and Drake doing now? Nicki Minaj will collaborate with MaximBet on various projects, including but not limited to merchandise, parties, sponsorships, fan experiences, and branding. These projects are geared toward bringing together the entertainment, sports, and celebrity betting industries.
As for Drake, the hit-making rapper currently serves as an executive producer on HBO's hit drama series, "Euphoria".
5. "I Was Here" by Beyoncé
This powerful song is about wanting to leave an impact on the world before life comes to an end, which is a perfect message for high school graduates to continue to pursue their education and do something worth living for, something that will change the world. Tomorrow isn't always promised. "I want to leave my footprints on the sands of time / Know there was something that, something that I left behind
What is Beyoncé doing now? Beyoncé has just dropped a hint that she will be releasing new music in the very near future. Nevertheless, there is more to the mystery than just that. In addition, a content page for "B8" has been discovered. For the Beyhive, it's possible that this means a double album is on the way!
Congrats, grads!!!