Our Top 5 Favorite Episodes of Facebook Watch's "Red Table Talk"!
01-06-2020 by Courtney Allen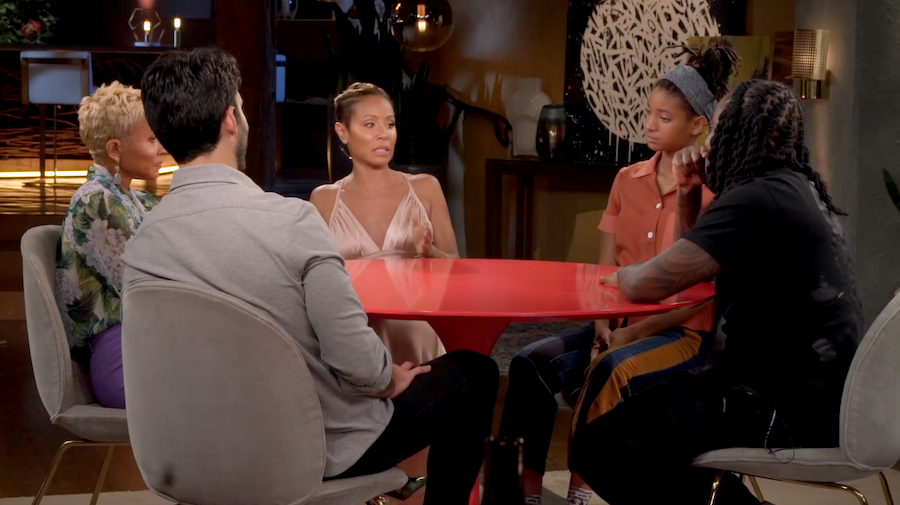 ( © Facebook Watch)  
If you don't love the Smith family… well, you're one of very few.

Jada Pinkett-Smith, her mother Adrienne, and her daughter Willow have stolen our hearts with their Facebook Watch series "Red Talk Talk" since it premiered last May. The show is centered around the 3 generations of Pinkett/Smith women, having real conversations with family members, experts, and celebrity guests about life and all the struggles, blessings, and lessons that come with it. After 2 seasons full of tears, laughs, and revelations, we're counting down our Top 5 favorite episodes ever! This one is going to be tough...
5. "What Men Really Think About Love" with Wale and Justin Baldoni
If you've ever wondered what men really think about love, this episode will definitely answer some of your questions. The Smith women sit down with rapper Wale and actorJustin Baldoni to chat about love in romantic relationships and the inevitable ups and downs that come with them.
In the end, the DC rapper struggled with the idea of love bringing even more adversity, but the other members at the table assured him of one thing: it's all worth it.
4. "Confronting Mental Illness" with Kid Cudi
Mental illness has been a huge topic in the media and in everyday conversation, so Jada, Adrienne, and Willow thought it was important to cover it. The women brought beloved rapper and mentor to the Smith kids, Kid Cudi, to the Red Table to talk about the correlation between mental illness and drug abuse.

A two-year (at the time) sober Kid Cudi discusses his battle with depression and drug use at the peak of his career, and how he managed to keep it a secret from his loved ones… until he couldn't.
3. "Motherhood" with Sheree Elizabeth Zampino
Jada flies solo in this episode by hitting the Red Table with her famous hubbyWill Smith's ex-wife Sheree Elizabeth Zampino, who is also the mother of Will's oldest child.
The ladies discuss their history and how they've successfully blended their families by reaching understanding and practicing compassion with one another. They make it very clear the journey certainly hasn't been easy, but today, there is nothing but love between the two.
2. "Girls Trippin'" with Gabrielle Union
Gabrielle Union sits down with Jada to chat about sisterhood, growth, and healing.
In this feel-good episode, the two female actresses are very transparent about the unspoken tension between them in the past and walk each other through their mental states during their most awkward interactions. The ladies open themselves up to vulnerability and self-reflection within difficult female relationships. Every woman can learn something from this talk!

1. "Molested as a Young Boy: An NBA Star Breaks His Silence" with Keyon Dooling
Jada and her mother Adrienne have a very difficult conversation with former NBA player Keyon Dooling for one of the most emotional and inspiring Red Table Talks yet.
The athlete shares the moments leading up to when memories of his childhood sexual abuse resurfaced, and the fallout that ensued. He is later joined by his wife, Natasha Dooling, and his former Boston Celtics coach, Doc Rivers, to discuss how he has and continues to overcome his trauma.
The courage and strength Dooling exemplifies is apparent in the words of his loved ones, as well as in his own words and demeanor. This episode will certainly leave you in tears and feeling an abundant amount of love.
Catch new episodes of "Red Table Talk" every Monday on Facebook Watch!