Our 9 Favorite Fits From "Emily in Paris" Season 3!
01-02-2023 by AnnMary Mailyan
(Netflix)
Who else wants to completely change their style (and personality) after watching a new TV show? Especially when the show is all about style and fashion, like "Emily in Paris"! The fashion diva's never failed to inspire us with her gorgeous looks for a few years already! Some people consider Emily's style a little extra and weird, with all the different colors, textures, and patterns, but that's what makes the character stand out. 
Every season, Emily's style changes a little bit. The main difference of this year is probably the bangs, which look perfect on Lily Collins! Another change we've noticed is that Emily's eccentric style is slowly evolving into a more classy vibe, with calmer and more neutral color choices. No doubt it's a symbolic way of showing how Emily herself has changed, becoming more independent and free, making the right decisions for her life.
We've seen lots of beautiful clothing items in the past two years, so now, let's explore some of the best outfits of the new season! 
1. Sparkly Dress
If you watched the series before New Year's, we're pretty sure you've considered wearing something similar for the biggest party of the year! The dress really gives some retro vibes, and it looks incredible with some fine earrings and messy-bun hairstyle!
2. Blazer with Bralette
This outfit is so classic and super cool at the same time! It kinda looks like a peculiar combination of grunge and smart style, and we love it! Especially with some red lipstick complementing the whole look.
3. Blue Polka-Dot Dress
The polka-dot dress looked so nice on Emily, with wavy hair and a silver necklace, didn't it? This fit just screams Summer holidays, and we can't wait for the weather to get warmer to copy it! 
4. The Sunflower Look
Just looking at this bright outfit already manages to cheer us up! Emily certainly knows the secrets of color therapy, as she chose the perfect tones to feel more positive, especially with all the little troubles she's going through. And look, even the coffee cup matches, how cute is that?! 
5. Plaid Style  
If the colorful and extravagant outfits aren't really your thing, we're sure you'll love this one! Emily looks so classy with a plaid cropped sweater, skirt, and black newsie cap. She's definitely getting more into chill but fancy Parisian fashion, and we're all here for it!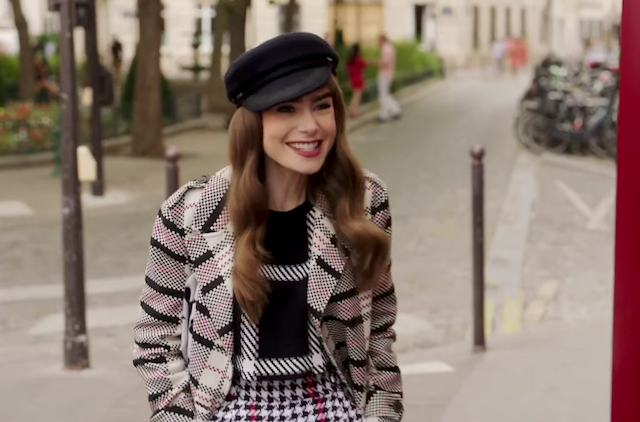 (Netflix)
6. Yellow Houndstooth Blazer
This outfit somehow felt really nostalgic, cuz it gives Season 1 Emily vibes. We've loved the preppy style ever since Blair Waldorf made it a trend, and Emily has sure added some more glamorous accent to the look!
7. Colorful Sweater
Emily's wardrobe is always full of all the colors of the spectrum! She is never afraid to experiment with various tones and materials, and usually she does it fantastically well! And who doesn't love a warm, cozy, colorful sweater?
8. Gingham Swimwear
Life goal: to look as effortlessly fancy and beautiful on the beach or around the pool as Emily does! This girl absolutely knows how to turn heads around, and even her swimwear looks like a piece of art, or a Pinterest aesthetic. 
9. Wide-Leg Trousers
Told you that our stylish girl is slowly opting for more classic looks. This fit is so on-point, with a red polka-dot blouse, black wide-leg trousers, and red platform heels. Hope we'll see more fancy looks in Season 4! 
"Emily in Paris" Season 3 is now streaming on Netflix!