Our 5 Favorite Thanksgiving Recipes From TikTok!
11-20-2021 by Melissa Morales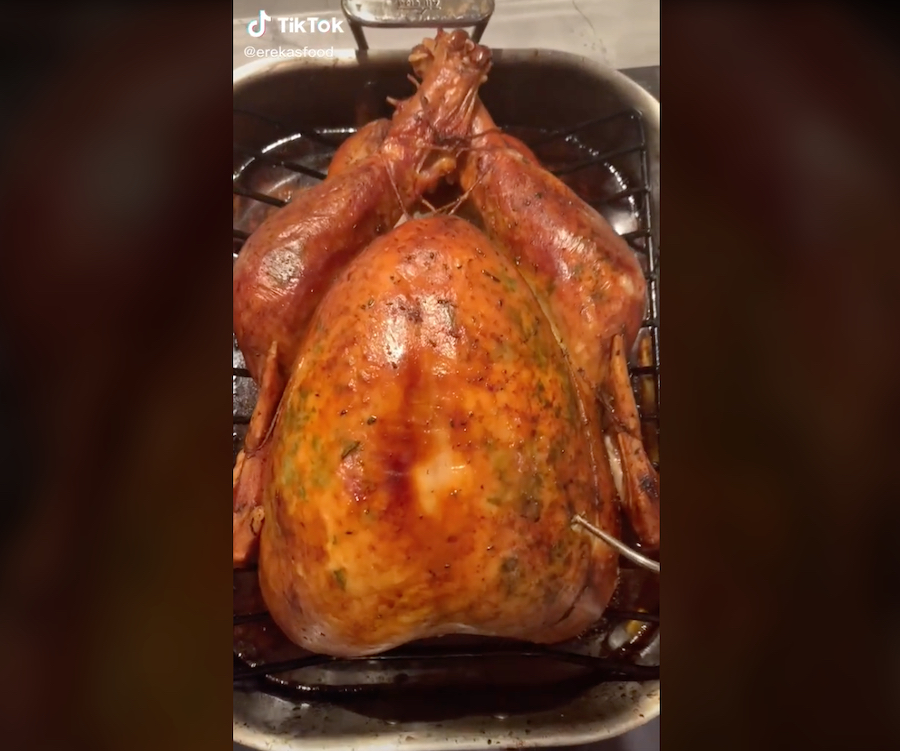 (Ereka Vetrini/TikTok/@erekasfood)
With Halloween and the Spooky Season now at an end, another holiday is quickly coming near -- and I'm not talking about Christmas. Thanksgiving! It's a holiday to come together with families and celebrate gratitude and give thanks. It's also a time to delve deep into cooking and enjoy some super delicious meals! Users on TikTok have been sharing their recipes online. Check out some of our faves!
Starting off with a classic pumpkin pie, TikTok user @melissajorealrecipes gives us the deets on how to make it! Using sugar, cinnamon, nutmeg, cloves, ginger, salt, eggs, a can of pumpkin, evaporated milk, and pie crust, after baking it in the oven we are left with an absolutely yummy pumpkin pie! Don't forget to add some whipped cream on top!
Next, we have a recipe for some cornbread from TikTok user @learntosew. Using corn casserole, a box of Jiffy, a stick of butter, cream corn, regular corn, some cheese, sour cream, cornbread mix, and honey, the result is a very crispy and tasty-looking cornbread!
For those of us wanting to try a culturally different meal on Thanksgiving, TikTok user @cookingwithbeatriz gives us a Puerto Rican-style potato salad recipe! As a great side dish for Thanksgiving and many other holidays, she provides us the step-by-step ingredients on how to make this delicious dish. The end result is some beautiful, fluffy potato salad!
For your classic mashed potatoes mixed with another cultural twist, TikTok user @eshitastarr provides a very simple yet effective recipe of mashed potatoes, with golden potatoes, onion powder, garlic powder, salt, red pepper with butter, and her secret ingredient -- miso paste! This definitely looks so good to eat!
Don't worry, cheese lovers, there's something for you too! TikTok user @chefmilliemill gives us the scoop on how to make some yummy mac and cheese. Perfect for Thanksgiving or any day, this is definitely one recipe to keep in your recipe book!
Last but definitely not least, it is the main dish -- the turkey! TikTok user @erekasfood shows us in less than 60 seconds how to make a juicy turkey to eat with family on Thanksgiving. At the end, she also provides the exact ingredients needed for this dish. Enjoy!
Have fun making recipe ideas to share with your family on Thanksgiving to enjoy with all. I've got to say, my stomach is rumbling just watching all these videos!