Our 5 Favorite Scenes from "Stranger Things 4": Volume 1 (That Aren't That Max Scene)!
06-15-2022 by Jaelen Patrick & Katie Marzullo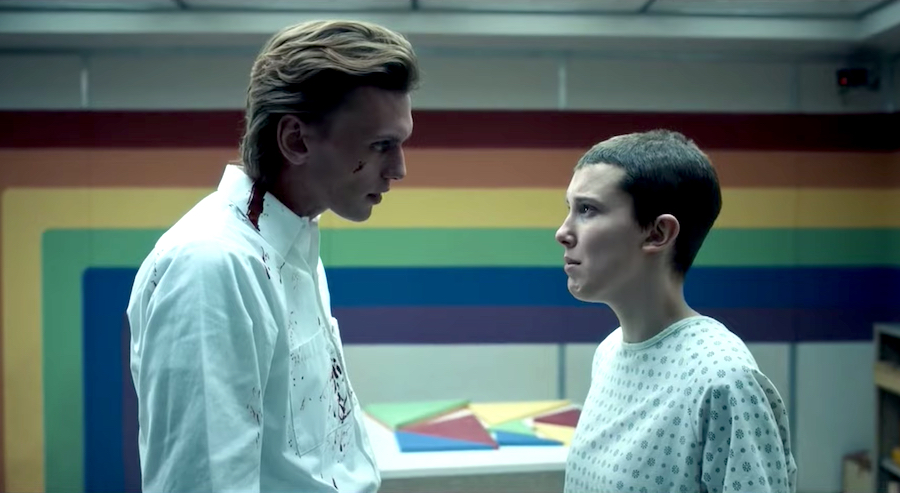 (Netflix)
To say the least, "Stranger Things" Season 4 has been more than worth the wait. After fans endured almost 3 years waiting for Season 4 to finally drop on Netflix, they were highly impressed, and also a bit surprised, with the outcome. As Volume 1 of the season has been released, with Volume 2 set to drop on July 1, we can't help but notice the amount of jaw-dropping, tear-jerking scenes that already make this season one of the best yet, including that unforgettable, instantly iconic Max scene (you know the one). Here are a few of our other favorites! 
1. Joyce and Hopper Reunite
Because Season 3 left us to believe Hopper (David Harbour) had died in a major chemical explosion, which we found not to be true as a "Stranger Things 4" teaser revealed that he was, instead, now a prisoner in Russia, do you really have to ask why this is one of our favorite scenes? After the pair finally laid eyes on each other for the first time in 6 months, Joyce (Winona Ryder) embraced Hop with little hesitation, while Hop, in complete shock, didn't believe what his eyes had seen as he didn't fully embrace Joyce until he got another good look at her. This heart-wrenching scene that showed what fans had been hoping to see was sure to leave you wondering who was cutting onions.
This scene is so perfect. The way Hopper's face changes when he realises what's going on is real. Not to mention how he smiles at her, how he approaches her and how Joyce embraces him with so much love.
TEARS OF PURE JOY ???#StrangerThings4 #jopperpic.twitter.com/QfRX7PAaQt

— Ingrid ? | watching tvdu (@adoringis) May 27, 2022
2. Rescuing Steve
After Steve (Joe Keery) discovers "Watergate", his bravery took a turn for the worst after he found himself being dragged by a tentacle into this underwater gate that led to the Upside-Down. As Steve is then stuck, seemingly losing a battle to a group of "demobats" that leave us to believe that this might be the end of the road for our favorite babysitter, Nancy (Natalia Dyer), Robin (Maya Hawke), and Eddie (Joseph Quinn) come to his rescue. This makes for an epic fight scene that is quite satisfying to watch. Not to mention, it was nice to see someone else save the guy who normally does all of the saving.  
Steve, Nancy, Robin and Eddie as a team was one of my favorite things about Stranger Things Season 4 Volume 1. I love them so much pic.twitter.com/iCdpPo4qQX

— Liam (@RheeEspinosa) June 6, 2022
3. A Letter to Billy
This next scene is immensely underrated as it is overshadowed by what comes right after: the infamous "Running up that Hill" scene. As Max (Sadie Sink) comes to the realization that she is Vecna's next victim, she writes letters to everyone she's closest to, including her estranged stepbrother Billy (Dacre Montgomery), who suffered a heroic death at the end of Season 3. In this heart-felt scene, Max reads the letter dedicated to Billy at the foot of his grave, sharing how everything has been a "total disaster" since he left and how she replays his death in her head wishing that she would have done something to save him in hopes that they would've had a chance at a real brother-and-sister relationship. This gave us a sense of how that day truly affected Max and why she isn't acting herself anymore as she shares that a part of her died the day Billy did. Are those onions again?
4. Vecna's Backstory
This scene was arguably one of the best from the entire season. Let's just say, this was a great example of a villain's origin story done right. As Eleven (Millie Bobby Brown) recalls one of her most traumatic memories -- the massacre at Hawkins Lab -- we find out that the kind orderly (Jamie Campbell Bower) who has been helping her is not only the mysterious patient One but is also young Henry Creel AND Vecna in the mind-blowing perspective of both El and Nancy's point of view. This scene was a full circle moment for all "Stranger Things" fans as we got answers to questions that are integral to the plot of the entire series, one of the biggest being how the portal to the Upside-Down was opened in the first place. Overwhelmed would be an understatement for how this scene made us feel.
5. Eddie & Chrissy
Attention, new ship just dropped! Fans were utterly charmed by the cute yet all-too brief scene in Episode 1 when the D&D-obsessed, guitar-slaying Eddie Munson meets popular cheerleader Chrissy Cunningham (Grace Van Dien) in the woods to buy some weed. Their chemistry was off the charts in the best opposites-attract way, and we were so rooting for more of them! But sadly, she was killed off in the same episode, dashing our shipper dreams. The Duffer Brothers even admitted to regretting not exploring their relationship more, but they filmed the Eddie & Chrissy scene after her death scene. Luckily, this is fiction, and the Duffers are super creative -- surely they can find some way to bring her back?!
What were your favorite moments from the season so far?