Oscars 2020: Some of The Biggest Highlights From This Year's Ceremony!
02-10-2020 by Katie Marzullo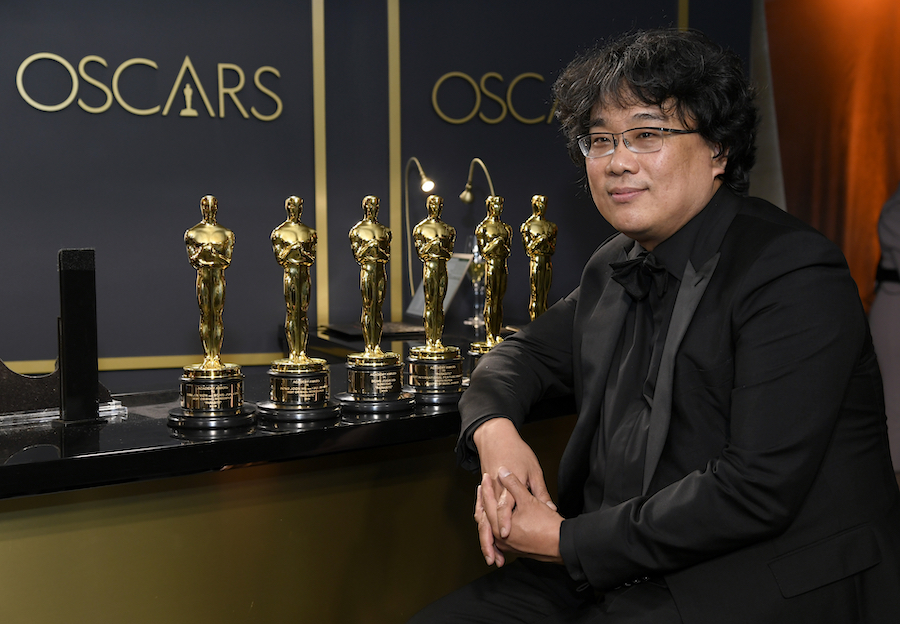 ( © Kevork Djansezian/Getty Images)  
Whew! How we feelin' this morning, film buffs?!
The first Academy Awards of the 2020s took place last night (poignant because the very first Academy Awards took place in the 1920s!), and if they were any indication, this new decade/century may very well mark a new era in cinema!

Most of the winners were rather predictable, but there were plenty of pleasant surprises to be had as well. Oscar always manages to keep it interesting, but last night might have been THE most interesting Oscars ceremony in recent memory!
So without any more chitty-chat, let's get right into it!
Parasite Lives Up To Its Name
Much like the central family of the film, Bong Joon Ho's South Korean masterpiece snuck in and completely took over!
It was a shoe-in for Best International Picture, but when it won for Best Original Screenplay – over the likes of Quentin Tarantino and Rian Johnson – you could feel… something in the air.
Then when Bong Joon Ho won for Best Director – over clear frontrunnerSam Mendes – the writing seemed to be on the wall.
And that hunch was confirmed when Parasite was named Best Picture of the year, becoming the first ever foreign language film to take home the title! And not only that, but Bong Joon Ho became the first person since Walt Freakin'Disney to take home 4 Oscars in one night! THE TAKEOVER IS COMPLETE!

And the best part is that everyone couldn't have been happier for them. Every win was met with a standing ovation, and when the producers cut the lights on them during their acceptance speeches for Best Picture, the audience began a chant of "Up! Up! Up!" until the lights were brought back on so they could continue. The camaraderie was palpable all night long, and we love it!
This was a huge win for international cinema in general. No longer do the Oscars feel so "local" – now they are more Global. These aren't the American Academy Awards, after all. The Oscars have a long history of rewarding international talent. This is just the beginning. Here's hoping, some day, we won't even need a Best International Picture category…
This Is Janelle Monae's World & We're Just Living In It
The ceremony kicked off with an astoundingly rousing opening number from the multi-talented Janelle Monae, featuring the equally multi-talented Billy Porter and a bunch of energetic backup dancers, and it was a spectacular way to open up the show!
The Oscars are generally known for being a formal, subdued affair, but Janelle made it feel like a party, and we were all invited!
Eminem… Just Because?
After a clip package looking back on some of the most popular Best Original Song winners in history, the curtain raised on Eminemperforming his hit "Lose Yourself" from his semi-autobiographical film 8 Mile… which won the Oscar 17 years ago.

No one seems to know why this occurred, but no one seemed to care either, as it got the crowd pumpin' and thumpin' at a point in the ceremony when people usually start checking out (Martin Scorsese didn't get the memo, though, oops).
Seeing all those actors and creatives in their tuxes and gowns rocking out in the audience is not something I ever expected to see at the Oscars, and it was great. Thanks for waking everyone up, Em!
Auditions For Next Year's Hosts?
Even though the Oscars once again went host-less this year, a couple of very strong cases were made for possible hosts for next year's ceremony!
For starters, we had the unusual pairing of Steve Martin andChris Rock, who has some surprisingly fun chemistry together as they cracked some uncomfortable yet effective jokes.
Later on,Bridesmaid besties Maya Rudolph andKristen Wiig took the stage for an extensive presenting bit, which culminated in a song medley that brought the house down (Billie Eilish notwithstanding… ahem). Almost immediately, social media was abuzz with calls for Maya and Kristen to be the hosts for next year's gig, and I quite agree!

Cats? Cats.
If you thought this ceremony would get by unscathed from the debacle that was Cats, oh my sweet summer child you were sorely mistaken.
To present the award for – you guessed it – Best Visual Effects,Cats stars James Corden and Rebel Wilson came out dressed in full cat costumes, and everyone was, accordingly, horrified. But probably not as horrified as the winners of that award, who now have to have two giant cats in the background of all of their acceptance speech photos…
The House of Waititi
Taika Waititi is that delightful blend of being a lovable goof AND a multi-talented writer, director, and actor, and we were all so happy for him when he took home Best Adapted Screenplay for his film Jojo Rabbit (which, of course, he wrote, directed, and starred in).
He dedicated his Oscar to all indigenous kids everywhere (he is half-Maori), reminding everyone watching that "we are the original storytellers". Hell yes!
It's a Small Arendelle After All
The theme of the evening was clearly rooted in diversity and international unity, and this was highlighted with a performance of "Into The Unknown" from Frozen II by Idina Menzel and 10 other international actresses & singers who accompanied her, singing verses of the song in their native languages. No translation necessary!

Joaquin Makes Us All Cry
Again, whether you were rooting for him or not, Joaquin Phoenix has been making the most of his phenomenal awards season run by giving some truly moving and heartfelt speeches.
Last night was no different, after predictably winning Best Actor forJoker, and he took the stage and touched on topics such as redemption, second chances, and climate change, and ended with a quote from his late brother River Phoenix – choking back tears, Joaquin said "Run to the rescue with love, and peace will follow." Amen!
And that was just the tip of the iceberg, really. What were some of YOUR favorite moments from last night?! Tweet us!