Oscars 2018: Voices For Change Take Center Stage!
Written by Katie Marzullo. Published: March 05 2018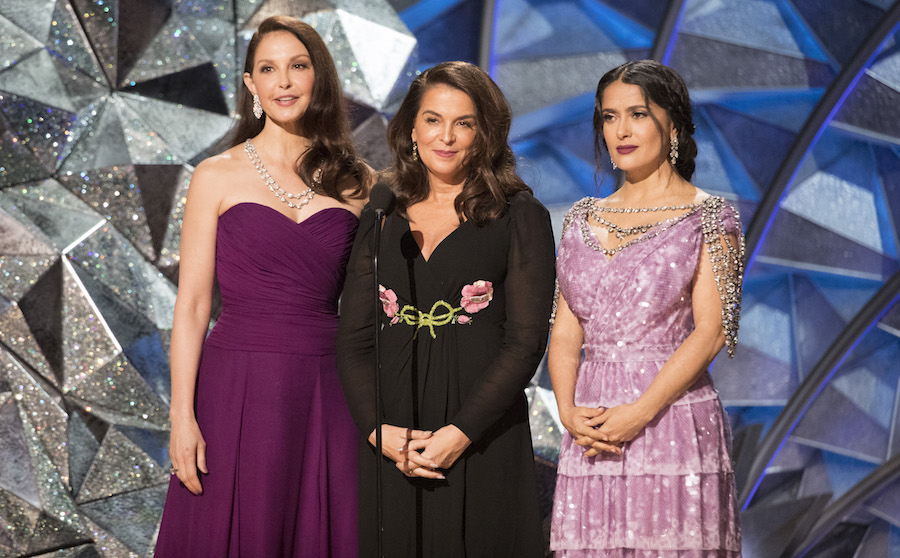 Like any good Hollywood film, last night's 90th annual Academy Awards followed the script. All the expected plot points were hit -- Gary Oldman, Allison Janney, Sam Rockwell, and Frances McDormand all won acting honors, Jordan Peele got his Best Original Screenplay Oscar, Dunkirk swept almost all the technical categories, and Guillermo Del Toro was named Best Director. The script even came with a twist ending, as The Shape of Water upset frontrunner Three Billboards Outside Ebbing, Missouri for Best Picture.
So, with a night full of so many non-surprises, how do you keep the show compelling?
Well, in a year that has seen a major revolution in terms of women and people of color standing up for themselves and demanding equal respect and opportunities, you can't do much better than the Oscars in terms of public podiums, and the celebrity attendees came well-prepared to keep the #TimesUp train going. And the Academy, instead of playing it safe and just letting the award winners have their say, they instead embraced and encouraged it, inviting many of the loudest voices of this movement to present awards and give them a platform. They did not shy away from the current climate, and the presenters and winners alike were all too eager to take advantage of this moment, resulting in one of the most inspiring, diverse, and inclusive ceremonies we've seen in awhile.
FilmmakerRachel Stenton, whose film "The Silent Child", about a hearing-impaired little girl, won Best Short Film, delivered her acceptance speech in sign language; Trans actressDaniela Vega, who starred in the Best Foreign Film winner A Fantastic Woman, introduced the performance of Best Original Song nominee, "Mystery of Love" from Call Me By Your Name; 14-time nominee and legend in his fieldRoger Deakins finally won his first Best Cinematography Oscar, proving that it's never too late;Ashley Judd, Salma Hayek, andAnnabella Sciorra, 3 of the most vocal #TimesUp advocates, took the stage together to remind everyone that they won't be silenced and will continue their fight... But perhaps the most rousing moment of the evening came when McDormand accepted her award for Best Actress -- setting her (2nd career) statuette down on the stage floor, she told all the female nominees of every category in the room to stand up and be feted as one and called on producers everywhere to listen to their stories and ideas.
Yes indeed, the entire evening was a celebration of diversity, of new voices, of different perspectives. It definitely feels like a new day is dawning, and when the Academy Awards joins the cause, you know things are going to be different from here on out. It's an exciting time!
See the full list of winners here.
(Image via Craig Sjodin/Getty Images)
- Katie Marzullo, YH Stafff Editor