Oscar, Meet Felix: Thomas Lennon Cast as Matthew Perry's "Odd Couple" Co-Star
Written by Sarah Osman. Published: March 17 2014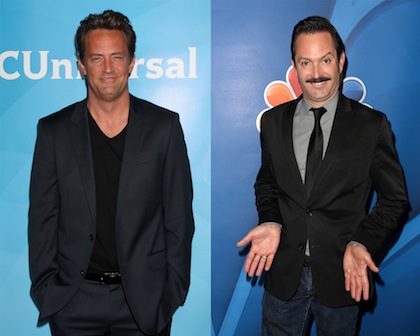 A short time ago, I brought you news of the latest comedy pilot from CBS, a remake of the late great play, film, and television series "The Odd Couple", set to star one of our faves, Matthew Perry, as the slovenly Oscar Madison. And the series has just found its Felix Ungar, in the form of Thomas Lennon. Known as one of the founding members of comedy troupe The State, he's made a name for himself playing some truly oddball characters, such as Lt. Dangle on "Reno 911" and the eccentric boss on the recently cancelled "Sean Saves the World." This will be one of the first times we will get to see Lennon star as a more down-to-earth character... Not to say that Felix is 100% sane -- he was thrown out of his house by his wife, and he's described as a "fastidious neat freak." I'm quite excited to see Lennon and Perry bounce off of one another. I would be very surprised if the two don't have perfect comedic chemistry!
In the meantime, Lennon isn't the only actor added to the reboot's roster.Wendell Pierce, star of HBO's "Treme" and one of the key players on the hit drama "The Wire", will join the show as Oscar's longtime buddy who also happens to be an extremely neurotic cop (that's two characters with extreme neuroses... I sense an overarching theme here). This isn't the first time Pierce has starred as a cop either -- he played one for five seasons on "The Wire". I can't help but wonder if Oscar will be a cop in this version of "The Odd Couple"; in the original, he works as a sportswriter, but there's always room for new interpretations!
Are you excited for the relaunch of "The Odd Couple"?
(Photos via WENN)
- Sarah Osman, YH Staff