One to Watch: Jodie Whittaker
Written by . Published: August 04 2011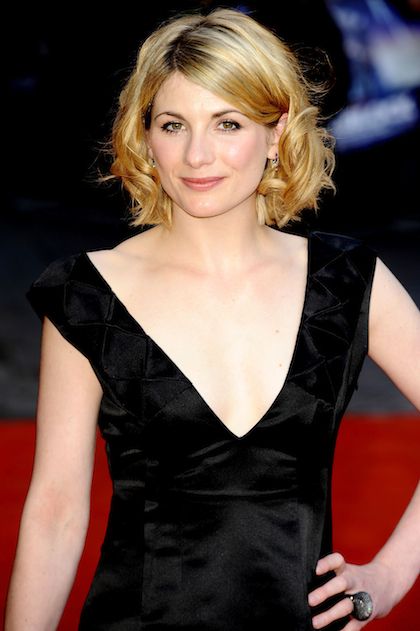 Classically trained British actress
Jodie

Whittaker
may be this summer's least likely action hero.  
In the horror/comedy mash-up
Attack the Block
, which has been riding a wave of
fanboy
buzz from across the pond,
Whittaker
plays Sam, a young nurse and new tenant of a low-income South London apartment complex (the "block") who gets mugged by a gang of local kids just as a horde of monstrous aliens touch down, quickly devouring every human that gets in their path. Trapped together in the block, Sam and her attackers reluctantly team up to survive the gruesome onslaught.
It was an interesting challenge for
Whittaker
to work with a cast of inexperienced youths plucked right out of drama classes. She bonded with the boys, who did group workshops to develop their characters, and it's evident on-screen as Sam and her attackers develop a mutual respect for each other out of an unlikely alliance.  
Attack the Block
, a kind of distant cousin of
Shaun of the Dead
, has been a hit in the
U.K
., but many
wondered
if the thick British accents would be an impediment to
U.S
. success. The film, which has been embraced by critics here (it's at 89% on Rotten Tomatoes), is currently in limited release.
Whittaker
, an up-and-coming actress who will also be seen opposite
Anne Hathaway
and
Jim

Sturgess
in the romance
One Day
 (opening August 19), is perhaps best known for starring opposite screen legend
Peter

O'Toole
in the touching 2006 drama
Venus
, for which
O'Toole
was nominated for a Best Actor Oscar. For
Venus
,
Whittaker
herself was nominated for Best Newcomer of the Year by the London Film Critics Circle and Most Promising Newcomer by the British Independent Film Awards, and received a nomination for Best Actress in a Comedy or Musical from the Satellite Awards (given by the International Press Academy, a rival group to the Golden Globes). It was a whirlwind for
Whittaker
, who had landed the role just after graduating from the Guildhall School of Music and Drama in London.
Since then, she has co-starred with
Viggo

Mortensen
in the Holocaust drama
Good
 and has appeared in many British television productions, including "Tess of the
D'Urbervilles
," starring
Gemma
Arterton
, and "
Cranford
," starring
Judi

Dench
, both of which aired on PBS in the States.
Whittaker
also played receptionist Beverly in the popular British
St.

Trinian's
 comedies, set at an all-girls boarding school, which didn't get much of a theatrical release in the
U.S
. but featured many rising British stars, including
Arterton
,
Lucy Punch
,
Juno Temple
, and
Lily Cole
. Most recently,
Whittaker
starred in the BBC adaptation of
Sarah Waters
' WWII novel
The Night Watch
.
In
One Day
, based on the recent bestseller by
David Nicholls
,
Whittaker
plays
Tilly
, the university friend of Emma (Anne Hathaway) and
Dex
(Jim
Sturgess
). (Keep an eye out for the scene where
Tilly
drunkenly sings
Robbie Williams
' "Angels" at a wedding reception.)
Whittaker
will next be seen in the British crime tale
Ashes
, also starring
Sturgess
, as well as another on-the-cusp Brit,
Luke Evans
(the upcoming
Immortals
 and
The Three Musketeers
). Although
Whittaker
has worked mainly on the other side of the Atlantic, it won't be long before Hollywood catches this rising star.
(Image via

JMAB/VMAB/WENN)