OK Go Drop New Music Video, and, Yes, It's Epic
Written by Katie Marzullo. Published: June 18 2014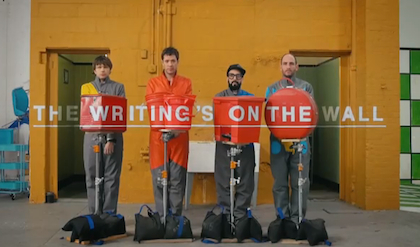 Another day, another mind-blowing music video from OK Go…
For their brand new single, "The Writing's on the Wall", the band decided to go full literal, playing with forced perspective and optical illusions in their signature one-take format.
The song is the first single off their upcoming fourth studio album, Hungry Ghosts (slated to drop in October), and as expected, the song itself holds up very well on its own, embodying that retro alt-rock sound that OK Go is known for. The fact that these fellas can so brilliantly match their musical talents with their visual brilliance makes them some of the most well-rounded Artists (with a capital 'A') of this here modern age. They never fail to surprise us and make us say "WHOA!" with each new video. We never thought they'd be able to top their breakout hit "Here It Goes Again",  yet here we are, eight years later, still just as enthralled as ever. Kudos, boys.
Check out "The Writing's on the Wall" below!
Also, we happened to be on set for the band's epic video for "This Too Shall Pass":
(Screenshot via YouTube)
- Katie Marzullo, YH Staff Editor