Not Your Grandaddy's Jack O'Lantern: Pumpkin-Carving Goes to New Extremes!
Written by Sarah Osman. Published: October 30 2014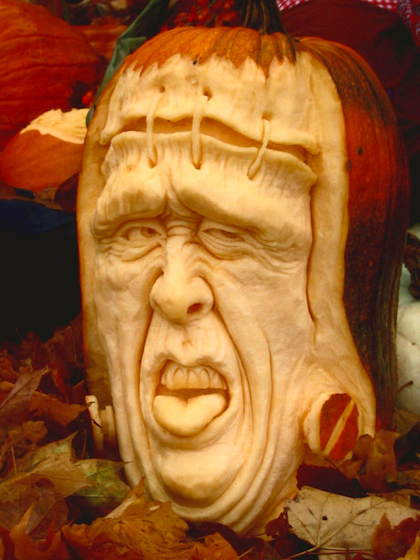 Every year, pumpkin-carving seems to be getting... more complicated. Back in the day, before the glorious sharing websites known as Pinterest and Tumblr, you would just carve two triangle eyes, a triangle noise, and a choppy, jagged smile. Today, those Jack O'Lanterns would be considered so blasé -- you can now find stencils for nearly any type of pumpkin design you want to create. Some of the most popular designs are of our favorite celebrities, so as trick-or-treaters come up your driveway, they can point at your pumpkin and say, "Hey... I know that guy!"
A few of the most popular designs include Hilary Duff,Jennifer Aniston, Matthew McConaughey, and President Obama. The designs don't just stop with celebrities, however: they bleed into popular culture as well. You can find stencils for Anna, Elsa, Olaf and Kristoff from Frozen (because of course you can, it'sFrozen!), Katniss from The Hunger Games, and those pesky zombies from "The Walking Dead" (the only actual Halloween-themed pumpkins, go figure). Since Marvel is still gunning for world domination, there are dozens of superhero designs too, including stencils from their latest heroes, Guardians of the Galaxy, and even the non-Marvel related superheroes, like the Ninja Turtles.
If you now feel inspired (and brave) enough to try out a fancy Jack O'Lantern, here are some of the best sites to find affordable stencils!
The Queen of Free has access to dozens of free stencils for Disney characters.
Pumpkin Glow has quite a few for celebrities, including a stencil for the late, great Robin Williams.
Zombie Pumpkins has appropriately spooky stencils, including one of the original King of Creepy himself, Edgar Allen Poe.
Will you be trying a fancy stencil for your pumpkin this year? If you do, tweet us your results on Twitter @younghollywood!
(Photo via WENN)
- Sarah Osman, YH Staff