New Projects From 'Call Me By Your Name' Stars & Director!
Written by Meg Spaulding. Published: July 09 2018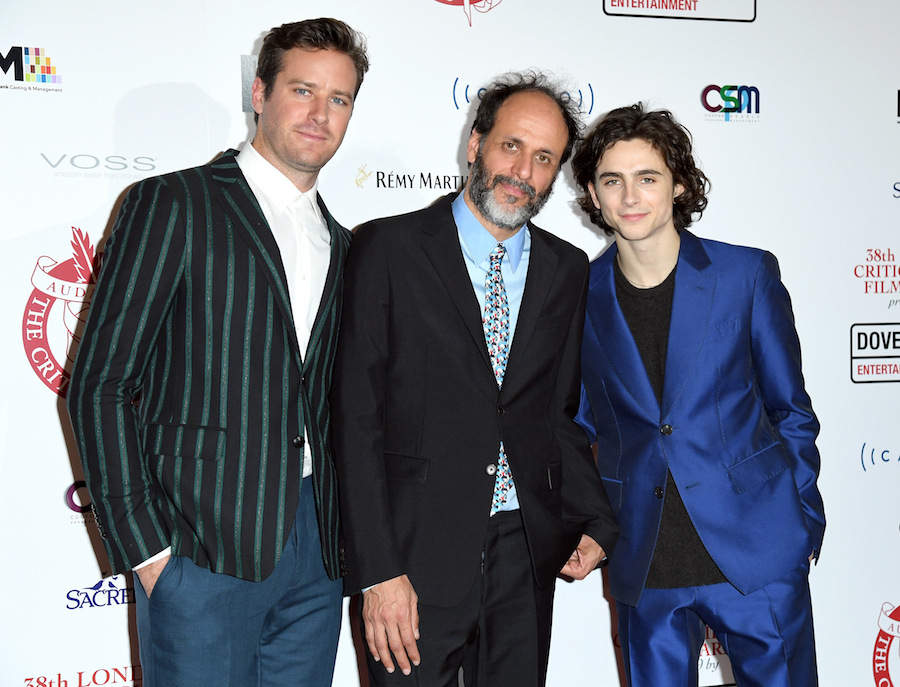 I'm gonna say what we're all thinking—I miss Call Me By Your Name. Although it was released last Winter, now that it's Summertime I find myself wishing I could watch it again for the first time.CMBYN director Luca Guadagnino has mentioned that he'd like to make a sequel, possibly in 2020, so that stars Timothée Chalamet and Armie Hammer can reprise their roles while looking realistically older. While we wait to see if this reunion will actually become a reality, for now we can keep the excitement alive by watching their individual projects. Maybe it's that Summer magic, because seemingly all at once, trailers for new projects from Chalamet, Hammer, AND Guadagnino have all been released. Presented to you now are all the opportunities to support the work of Timmy, Armie, and Luca, or, as they should really be called, the Dream Team, in the near future!
Timothée Chalamet may have been snubbed last awards season, but he has plenty more chances to grace the Oscar stage—he is going to be in two movies this Summer/Fall that look like they will both showcase different facets of his acting abilities. First, in Hot Summer Nights (which is not the sequel to CMYBN, unfortunately), Timmy stars as Daniel Middleton, a shy teenager who is sent to Cape Cod in the summer of 1991. Things look like they get messy for Daniel, as he finds himself immersed in a drug-dealing operation, as well as a summer romance. Hot Summer Nights was made around the time of CMBYN, so expect the short-haired Chalamet of days past. There's not too long to wait for this film—it hits theaters July 27. Check out the trailer below, as well as our chat with the cast (including Timothée) at last year's SXSW!
In October, we'll be blessed with another Chalamet tear-jerker, Beautiful Boy. What I wanna know is why the trailer goes this hard. Who decided to wreck us emotionally with a mere trailer?? This film is based on the stories of real-life father and son, David and Nic Sheff. Timothee will play Nic, who struggles with drug addiction, while his father, played by Steve Carell, looks on. (Timothee was cast before Lady Bird and CMBYN premiered, a testament to Chalamet's talent, rather than his recent attention.) Beautiful Boyhas already garnered media buzz and rave reviews based on its trailer, so check it out and then go watch the movie this Fall!
Now on to the dashing heartbreaker, Oliver--I mean, Armie Hammer. On July 13, you can catch him as a crazed CEO in the movie Sorry to Bother You. Get Out's Lakeith Stanfield is the star of this genre-bending science-fiction/comedy/satire. Stanfield plays a telemarketer who uses his "white voice" to become the company's most successful salesman. As he rises to higher and higher positions, he meets Armie Hammer's character, who will test his morals and offer him tantalizing promises of money and success. This film looks quirky and original—take a look!
The director responsible for CMBYN, Luca Guadagnino, is known for capturing moods and essences of meaning in his films. In a departure from the romantic, languid CMBYN, his new movie is possibly the exact opposite—a horror film! The trailer alone is full of suspense and general creepy unease. This film,Suspiria, is a remake of an Italian horror film from the 1970s, popular for its bright colors and terrifying visuals. Guadagnino knows about colors and visuals himself, so prospects are high that he will do the film justice. Watch the trailer to see how things quickly go awry at a dance school that should probably be closed down for health and safety reasons. You can watch the trailer now and see the movie starting November 2!
2018 is turning out to be a good year for CMBYN fans across the board; from the Oscar win for Best Adapted Screenplay and the announcement of a possible sequel, to now, with individual work from Chalamet, Hammer, and Guadagnino just around the corner. We can't wait to see what more this talented trio's careers have in store!  
(Image via Karwai Tang/Getty Images)
- Meg Spaulding, YH Contributing Writer