Netflix Going Royal with New Series About Queen Elizabeth!
Written by Sarah Osman. Published: June 05 2014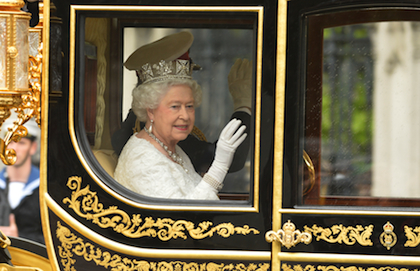 Netflix has already found success with women in prison, scandals in the White House, and reminding us that there will always be money in the banana stand. Now they are banking on the success of the monarchy with their next series entitled "The Crown". The project will be a 20-plus-hour dramatization of the life of Queen Elizabeth II. Three different actresses will portray the Queen at different stages of her life, beginning with her marriage toPrince Philip in 1947, and follow her triumphs and upheavals as Great Britain's current (and second longest-reigning) monarch.
Elizabeth became Queen at age 26 upon the death of her father, King George VI, and her reign has lasted through six decades, 12 U.S. presidents, and a whole lot of royal balls (both literal AND figurative). "The Crown" will be penned by Peter Morgan, who previously wrote The Queen, which focused on the Queen's later life and win an Oscar for its starHelen Mirren. The series is set to have a $170 million budget, which is beyond epic, especially for a webseries. I can only imagine how many fastenaters and ball gowns that will buy...
There has been no word yet on the casting for "The Crown", but I'm going to take a leap of faith and say that Keira Knightleywill be one of them. It seems to me that if it involves British history, Keira Knightley is somehow involved. And who's to say that Dame Helen won't take another stab at it?
Will you tune in for "The Crown"?
(Photo via Euan Cherry/WENN)
- Sarah Osman, YH Staff