Netflix Conjures Up a "Chilling Adventures of Sabrina" Holiday Special!
Written by Kyla Killackey. Published: November 14 2018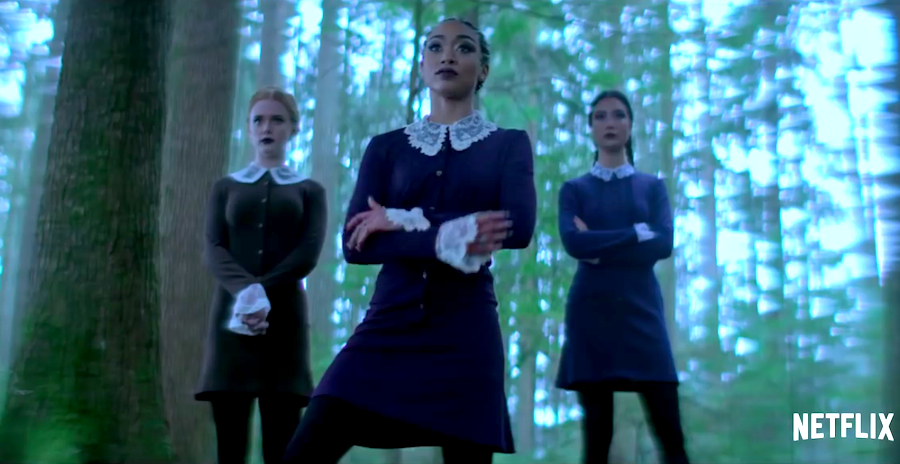 Calling all witches and warlocks (and mortals too), gather the coven and thank Satan because we're getting an extra episode of "The Chilling Adventures of Sabrina"!
Netflix just announced that they'll be releasing an all new stand-alone Christmas episode this December, and the news might just be enough to pull me out of my cold weather funk.
The episode, called "Chilling Adventures of Sabrina: A Midwinter's Tale", will premiere on December 14 (only a month away, people!!!) and will follow the Spellman family and the Church of Night coven as they celebrate Winter Solstice (the shortest, and therefore darkest, day of the year). It's said to be a time "when families gather around the Yule Fire to sing Pagan carols and tell ghost stories."
Netflix also let it slip that the Winter Solstice is "a time for guests and visitors – both welcome and unwelcome – you never know who might come down the chimney." I have chills.
So there you have it, let's hope the promise of more Ambrose is enough to help my mortal soul last these next four weeks...
"The Chilling Adventures of Sabrina" is currently available to stream/binge on Netflix.
(Image via Netflix)
- Kyla Killackey, YH Contributing Writer