NBC Brings Christopher Walken Aboard Live 'Peter Pan' Musical as Captain Hook!
Written by Katie Marzullo. Published: July 14 2014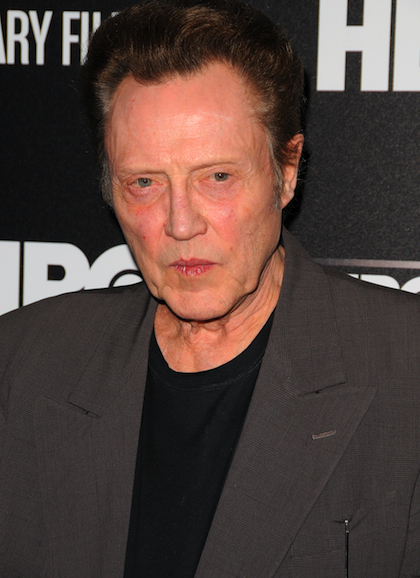 Back in January, I reported to all you Lost Children that NBC was planning to follow up their much-tweeted-about holiday airing of "The Sound of Music Live!" by giving the same treatment to the classicPeter Pan. You can read all about it, plus my personal thoughts on the matter and some history about the play, here.
In my musings, I posed a few options for who could play the villain of villains, Captain Hook. And in a move literally no one saw coming, it has just been announced that the role will be played by none other than… the More Cowbell Guy!
That is,Christopher Walken. Yep, it's gonna be that kinda show, folks. Don't get me wrong, I loves me some Walken – who doesn't? – but his casting as Hook speaks volumes for the road down which the producers are taking this production. Instead of going for something a little darker or intriguing, they have decided to follow in the tradition of past live NBC airings of Peter Pan by making Hook, basically, a singing monkey. Hey, it's just one of several interpretations, and it's not "wrong" per se, but I would be lying if I said I wasn't expecting something more. Having said that, though, if you ARE going to go this route with the production, you really can't go wrong with Walken. And for those wondering, yes, Walken has the goods.
But this isn't the only way in which NBC is keeping it traditional. Although there was initial speculation that the lead role of The Boy Who Wouldn't Grow Up would be played by, you know, an actual BOY, NBC entertainment chairman Robert Greenblatt has confirmed that they are pursuing a female actress for the part. (SIGH.) In fact, they had been heavily courting Kristen Bell for the role, but they ran into too many scheduling issues.
So, both these pieces of news make me a little less excited to tune in, but… who am I kidding? I am totally tuning in, no matter what.
What do YOU guys think about Walken playing Hook? Which female star do you think they should cast as Peter?
(Photo via Ivan Nikolov/WENN)
- Katie Marzullo, YH Staff Editor