5 Essential N.W.A. Jams!
Written by Sarah Osman. Published: August 14 2015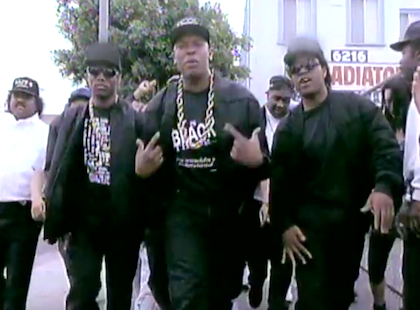 Like most kids growing up in Los Angeles, I was raised on a steady diet of L.A.-based musicians including The Doors,Sublime, Snoop Dogg, and the foremost representatives of the West Coast rap scene,N.W.A. What started out as a scrappy posse turned into a highly revolutionary rap group who penned some of the best protest songs of the late-'80s and early-'90s, N.W.A. introduced the world to some of hip-hop's top artists, including Dr. Dre and Ice Cube, who have since gone on to become icons and inspire countless others. While N.W.A. has since disbanded, their legacy lives on -- and their story has been brought to life in the film Straight Outta Compton.
In honor ofStraight Outta Compton's release today, I'd like to honor N.W.A.'s legacy by highlighting their best songs. If you have never listened to N.W.A., these are the jams to get you primed before you check out Straight Outta Compton... But be warned, these are extremely NSFW!
1. "Straight Outta Compton"
If you're going to listen to N.W.A, then this song is the must (come on, it's even the title of the movie!). "Straight Outta Compton" is one of the best hip-hop songs of all time; it let the world know that West Coast rappers have a lot to say too. The song is full of raw passion and accurately depicts what living in South Central Los Angeles was like at the time. Tell 'em where you're from, Ice Cube! (again, NSFW)
2. "F*** tha Police"
One of my personal favorites, "F*** tha Police" is one of N.W.A's most violent songs, and also one of its most real. Written after the Rodney King Riots in L.A., "F*** tha Police" focuses on what it was like to be African-American in Compton and have to interact with the police. The song was deemed so violent that the F.B.I. actually wrote to N.W.A's record company to protest the song's lyrics. That's one powerful protest anthem! (uh, yeah, definitely NSFW)
3. "Parental Discretion Iz Advised"
The sheer size of "Parental Discretion Iz Advised" is impressive (all five verses feature all five members, including their behind-the-scenes lyricist, Tracy "The D.O.C." Curry), but it's the message of the song that speaks to me. Any song that basically says "if you can't handle me, then f*** off," I'm okay with. The lyrics in "Parental Discretion Iz Advised" are also quite fun; I rather like this line: "It's like Apollo / But I'm not an amateur." (yes, parental discretion IZ advised, AKA NSFW!)
4. "Dope Man"
I tend to like songs that tell a story, and "Dopeman" tells a particularly tragic one. The song focuses on not only the drug dealer's perspective on selling drugs, but on the junkies themselves. The drug dealer meets a rather unfortunate end for all of his dealings, while the junkie's life becomes progressively more horrifying. The song probably features a superfluous amount of profanity (even for N.W.A.) but that doesn't make it any less powerful. (did I mention NSFW?)
5. "Express Yourself"
"Express yourself" is fairly remarkable for an N.W.A. song not necessarily because of its subject matter, but because of its lack of profanity! There is a "dirty" version, but the clean version just goes to show that the band is just as effective without the profanity. It even boasts a happy message: express yourself through creativity. The song's hook is actually a sample from a song from the '70s by Charles Wright & the Watts 103rd Street Rhythm Band, and I think that "Express Yourself" actually features some of N.W.A.'s most creative lyrics. I particularly like "You ain't efficient when you flow / You ain't swift, moving like a tortoise, full of rigor mortis."
Which N.W.A. song is your favorite?
Straight Outta Compton is now in theatres. Don't forget to check out our chat with stars Jason Mitchell and Corey Hawkins!
(Screenshot via YouTube)
- Sarah Osman, YH Staff