Mindy Kaling's "Never Have I Ever" Is Full of Heart, Laughs, & Much-Needed Representation!
05-05-2020 by Devi Ruia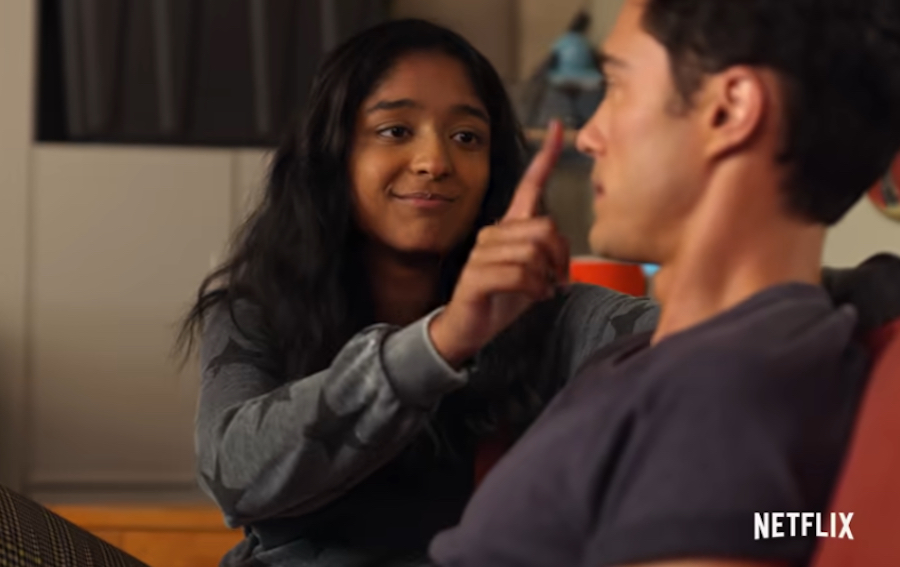 ( © Netflix)  
I never thought that, in my 20s, I would spend an entire day binge-ing a teen television show and actually really enjoy myself. But thanks to Netflix's new show, "Never Have I Ever", I not only enjoyed myself, I was profoundly moved by the intelligent way the show developed its characters and weaved through storylines while still managing to be incredibly funny.

"Never Have I Ever", created by Mindy Kaling andLang Fisher, stars Maitreyi Ramakrishnan — who Kaling foundthrough a nationwide open casting call — as Devi, a first-generation Indian teenager who dreams of popularity and of landing a super hot boyfriend.
But Devi is more than just a boy-obsessed teenager desperate to fit in. She's also struggling with incredible trauma, as the show establishes her father passed away only a few months ago and that she became paralyzed with grief — literally, her legs stopped working. Devi's journey is just as much about grappling with her trauma as it is about her feelings for boys. It adds a depth and complexity to a show that we don't often see in teen comedies. 
Not to mention, we've never seen a show like this with an Indian-American woman as its lead. As an Indian-American woman myself, I can count on one hand how many times I've seen good South Asian representation on-screen. Most of those times, the characters I've seen have been created and played by Mindy Kaling. So it makes sense that Kaling would be the creator of this show with a main character named Devi — which is my name, for those of you that skipped past the byline at the top of this article. 
In "Never Have I Ever", Devi is more than just an Indian-American teenager. She's a fully fleshed out person with many facets to her identity, and one of those is that she's Indian, but it's not her entire personality. Devi actually grapples with her Indian identity, and some of the cultural aspects of the show have faced some criticism online from South Asian women who don't feel like Devi represents their experience. However, from my perspective, I was incredibly moved by the way that the show depicted Devi. I am pretty Americanized like the character, and I didn't come to accept and love my Indian culture until college, so it was nice to see someone else reflect that experience. Saying that Devi doesn't represent Indian girls is a bit reductive, as we all have different things that shape our lives and no one has the exact same experience.
Devi isn't supposed to be on-screen to reflect the experience of every single Indian girl that ever lived. Kaling and Ramakrishnan are showing one story — a very well-written and interesting one, I might add — and this story will pave the way for more stories to be told.
So, I'd encourage you to go watch "Never Have I Ever" if you haven't already. It'll definitely brighten your day, make you laugh, and hopefully it'll teach the world how to actually pronounce my name right.