Michelle Obama Making the TV Rounds on "Nashville" & "Parks & Rec"
Written by Sarah Osman. Published: April 25 2014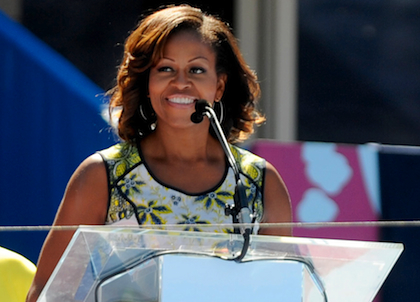 The show which has brought us some of the world's strangest plotlines is now about to bring us yet another: Michelle Obama will guest star on the May 7th episode of "Nashville". The First Lady will appear as herself (will she encourage all of the characters to move?) and will help Connie Britton's Rayna James as she sets up a charity concert at Fort Campbell after learning that Luke Wheeler was injured in Afghanistan. And if Mrs. Obama isn't enough star power for you, "American Idol" alumniKellie Pickler will pop in too!
By "Nashville" standards, this may be one of the more sane storylines the show has ever done. Considering how many characters have been injured, on drugs, or had a ferocious break up, it seems completely plausible that our First Lady would swing by to help organize a charity concert.
This isn't the last of Mrs. Obama's television appearances either. She will also have a cameo on "Parks and Recreation", in an episode called "Moving Up". Judging from the title, it certainly seems that the First Lady will encourage the rather obese citizens of Pawnee to eat some fruit and get off the couch. Who else is hoping she decides to coach April and Andy?
It certainly seems that the First Lady is becoming quite the star! President Obama better watch out -- his wife is getting more attention than he is!
Are you excited to see Michelle Obama on "Nashville"?
(Photo via Dennis Van Tine/Future Image/WENN)
- Sarah Osman, YH Staff